Thousands of people have been told to be ready to leave their homes as a tidal surge threatens to batter the east coast, bringing "extreme danger to life and property".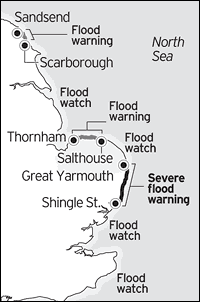 ©Telegraph
The freak, 10ft rise in sea level is expected to breach coastal defences and could bring the worst flooding in 50 years.
Gordon Brown has chaired a meeting of the Government's Cobra emergency response committee as the Environment Agency warned that more than 10,000 homes could be hit.
Conditions have been likened to those preceding the floods of 1953, which surged two miles inland between the Tees and the Thames and claimed the lives of 300 people.
The entire east coast stretching from Humberside to Kent has been put on alert.
Police and local authorities are preparing to evacuate low-lying coastal areas of East Anglia and nine severe weather warnings have been issued.
The Environment Agency announced: "Severe flooding is expected. There is extreme danger to life and property."
Residents have been issued with sandbags and advised to fasten doors, and prepare to move upstairs with food, clothes, blankets and torches.
They were also told to fill baths and buckets with water for washing, and store drinking water in clean bottles.
In London, the Thames Barrier and Dartford Creek have been closed and householders along the Kent coast were also told to expect flooding.
Barbara Young, chief executive of the Environment Agency, said in most areas the biggest waves would come at high tide.
She added: "We are better prepared than 1953 and have better served by early warning system. But saying that Great Yarmouth and Lowestoft are not well served by good flood defence systems. We are asking people to act now."
The agency issued six severe flood warnings, five flood warnings and 22 flood watches nationally, covering North Yorkshire, Lincolnshire, Norfolk, Suffolk, Essex and the north Kent coast.
The severe warnings are in place from Great Yarmouth, where 8,000 homes are at threat, down to the village of Shingle Street, and on parts of the River Bure and River Yare.
Hilary Benn, the Environment Secretary, told MPs: "A tidal surge of up to three metres is making its way down the North Sea which could coincide with peak high tides.
"There is a risk of flood defences being overtopped on the coast and in tidal rivers, especially in East Anglia, particularly the Norfolk Broads and the south coast of Great Yarmouth including Lowestoft, and areas south of this as far as the Coast of Kent."
The high seas and flooding are caused by a combination of a "storm surge" and a spring, or naturally high, tide.
In this case 100mph north westerly winds at the tale end of a huge low pressure near Iceland are blowing down the relatively narrow channel of the North Sea between Norway and Scotland.
These have a funnelling effect, pushing water down the North Sea into the bottleneck that is the Strait of Dover, the narrowest part of the English channel.
The water in the southern part of the North Sea has not got enough space to move and so the sea level rises substantially.
John Hammond, spokesman for the Met Office, said: "An event like this probably doesn't happen even once in twenty years."
Norfolk police say they have contingency plans in place to deal with a potential breach of sea defences in Great Yarmouth.
Local authorities are on standby to provide rest centres for residents who are unable to return home because of flood damage.
In Suffolk tides are expected to reach their peak at approximately 7.30am tomorrow.
The local authority advised residents in areas most likely to be vulnerable to flooding to leave their properties and seek shelter outside the affected area.
A number of schools are also expected to be closed tomorrow.
Across Europe, forecasters warned of high winds, extreme snowfall and avalanches.
Dutch port authorities are preparing to close Europe's largest harbour in Rotterdam to defend against predicted storm surges as high as 13ft (4m) and winds of up to 60mph (100 kph).
Gusts of up to 125 kph (78 mph) are expected in Germany and Denmark.
Meanwhile, the first storm of winter has caused major problems in northern parts of Britain as schools were closed and ferry crossings cancelled.
Hundreds of people suffered power cuts and fallen trees blocked roads as gusts up to 90mph battered the far north.
All schools on Orkney were closed, along with 13 in Caithness and Sutherland and a smaller number in Aberdeenshire.
Shoppers in Cheltenham were sent flying as a mini-tornado hit the High Street.
A sudden gale force wind hit the Spa town at around 3pm, causing thousands of pounds worth of damage.