A wildfire driven by powerful Santa Ana wind threatened a university and forced the evacuation of hundreds of homes in the Malibu Hills on Sunday, authorities said. Flames destroyed a church and several homes, one of them a landmark castle.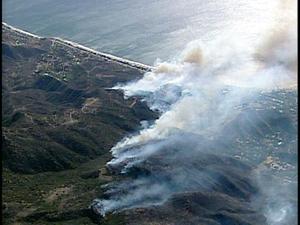 ©n/a
"The fire is at 0 percent containment -- we are at the mercy of the wind at this moment," Mayor Pro Tem Pamela Ulich said.
About 500 firefighters worked to protect Pepperdine University and some 200 homes in the upscale Malibu Crest and Serra Retreat neighborhoods, said Los Angeles County Fire Department Inspector Sam Padilla.
The blaze that started in Malibu Canyon had charred at least 1,000 acres. Officials said that, while no one has been reported injured, the fire has totally destroyed two commercial buildings and three homes, while causing moderate damage to nine homes and nine businesses.
Winds carried burning embers across the Pacific Coast highway, closing the popular road and setting fire to cars and trees in the parking lot of a shopping center where a supermarket, drug store and other shops were damaged. TV footage also showed several buildings in flames in the area, including clusters of beach-side homes.
In all, three homes and two commercial buildings had been confirmed lost throughout the area, county Fire Chief P. Michael Freeman said. Nine more homes suffered moderate to minor injuries, Freeman said. No residents or firefighters were injured, he said.
Fire crews responding to a blaze early Sunday found downed power lines, which may have started the blaze, fire Capt. Mike Brown said.
Faculty and staff at the 830-acre Pepperdine campus were urged to evacuate, school spokesman Jerry Derloshon said. Students had been instructed to gather their belongings from their dorm rooms and report to the school's cafeteria and basketball arena. Power was out at the university but both evacuation areas had generators, said student and resident adviser Amanda Lewis, 21.
Helicopters dropped water on flames in the hills above the campus, and palm trees smoldered on the ocean-facing side of the campus.
Flames consumed the landmark Castle Kashan, a stately fortress-like home with turrets and arched windows, as about a dozen residents watched from across a street. Chunks of brick fell from the exterior of the burning building overlooking the coast.
Erratic wind gusts hampered efforts to drop water from aircraft and pushed flames toward HRL Laboratories, a research and engineering facility jointly owned by Boeing Co. and General Motors Corp. about a mile north of Pepperdine. One outbuilding on the campus caught fire, Boeing spokeswoman Diana Ball said.
Flames engulfed Malibu Presbyterian Church, which had been evacuated, said youth pastor Eric Smith. "That's the really good news, that everyone's out and safe," Smith said. Before the religious building was incinerated, the hard drives and important documents were extricated, the pastor said.
He added that the church is one of vibrancy and life, and that the rebuilding efforts will make the parish and surrounding community stronger as a result.
Palm trees bent in half and embers were carried through the air as wind gusted to 60 to 65 mph. Thick smoke obscured the sun.
Susan Nuttall sat in her black Mercedes in a cul-de-sac just off the Pacific Coast Highway, saying she had fled her condo just below the Pepperdine campus.
"We're all scared to death and we have nowhere to go," said Nuttall, 51, still wearing a bathrobe and holding her chihuahua.
Mitra Rajabi came to get her 80-year-old mother from her home near Pepperdine. "We've been through this before, but it's never been this bad," said Rajabi, 39, of Pacific Palisades. "It was like a war zone."
Winds continued pushing flames down the canyon walls and toward the beach, prompting residents of the communities nestled in the hills to flee their homes. About 200 homes had been evacuated in Puerco Canyon and other nearby areas, Brown said.
Meanwhile, an out-of-control wildfire whipped up by 50-mph winds consumed about 500 acres early Sunday amid dry conditions in northeast Los Angeles County, authorities said.
The fire broke out late Saturday in the hills west of the Golden State Freeway in the Angeles National Forest, said Fire Inspector Jason Hurd.
The blaze burned a shed but no homes were immediately threatened and the fire was burning toward the southwest away from the freeway, authorities said.
Fire officials were focused on protecting Piru, a Ventura County town of 1,200 people about 5 miles to the west and across a small lake from the blaze. A condor preserve was also potentially threatened.
"There could be homes threatened by the end of the day Sunday if the fire continues to push to the south and southwest," U.S. Forest Service spokesman Stanton Florea told KNX radio.
L.A. County firefighters were assisting the Forest Service in battling the blaze, Hurd said.
A third blaze burned in an unpopulated canyon area in the Porter Ranch area of the San Fernando Valley.
Los Angeles city fire department spokesman Brian Humphrey said the blaze, fanned by "howling" winds, had burned less than 25 acres, and threatened no homes or structures. Downed power lines were found in the area, but officials didn't know if they had caused the blaze, Humphrey said.
The fire was burning north of Los Angeles city limits, but city firefighters were attacking the blaze as county crews concentrated on the other two fires.
Wildfires were widely expected in Southern California over the weekend as hot weather and heavy Santa Ana winds marked the height of traditional wildfire season after one of the driest rain years on record.
Shelters Offer Help For Displaced Pets
Kim Moore, owner of West Hills Pet Clinic, said the group is willing to take pets. The clinic is in the El Camino Shopping Center located at 23333 Mulholland Drive. She said they can house any small animals that need shelter due to the fire. The clinic can be reached at 818-222-7387.
Pierce College, the evacuation response center, is setting up an evacuation center for large animals at the Equestrian Center. The address is 6201 Winnetka Ave., in Woodland Hills. The phone number is 818-719-6401.
Melody Kohl, from Emergency Animal Rescue, is also offering help for animals, including larger animals like horses and cows. Kohl said the group is based in San Diego, but has trailers ready to help. The phone number is 858-583-6280.