Flooding from days of heavy rain left 14 people dead in a mudslide in Costa Rica and sowed chaos in neighboring Panama, displacing scores of people, rescuers said Saturday.
The avalanche struck poor homes in Atenas, west of the Costa Rican capital on Thursday in a torrential downpour, the Red Cross said. Rescuers later found 14 bodies as they picked through the mud, timber and rubble. The mudslide engulfed a complex housing the families of poor farm workers. It was the worst weather disaster in the Central American country for years.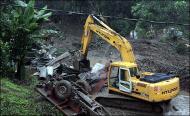 ©n/a
Rescuers use an excavator to remove the rubble in search of survivors or corpses after a landslide
Parrita on the western Pacific coast was also flooded when rain-swollen rivers burst their banks.
To the southeast in central Panama, heavy rain since Friday left two people missing and more than 100 displaced in remote areas, the national civil protection service said on Saturday.
An eight-year-old girl was swept away while bathing in a river and an 80-year-old went missing when working in a field. Authorities counted 129 people displaced when rivers burst their banks.
The reports came after even worse flooding struck across the Caribbean Sea on the island of Haiti. At least 47 people were killed there this weekend as floods wrecked homes and plantations in the already poverty-stricken nation.