Hurricane Lorenzo crashed into Mexico's Gulf coast on Friday, killing three people in a mudslide and knocking out power to 85,000 homes.
In the coastal fishing town of Nautla, Lorenzo's 80 mph (130 kph) winds ripped off bits of roofs, blew down trees and scattered debris in the streets.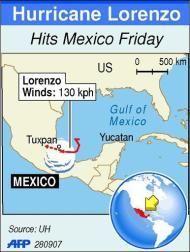 ©AFP
"It hit us hard and there is an incredible amount of rain," said Mayra Castro, 29, a waitress who spent the night mopping up water that leaked into her house through windows and under doors.
The heavy rains caused a mudslide that killed three people in a village in the Sierra Madre mountains of Puebla state, a state government spokesman said.
Torrential rain also fell on the already waterlogged coffee-growing state of Veracruz but there were no early reports of damage to the crop.
Lorenzo made landfall overnight close to Nautla as a Category 1 hurricane, the lowest rank on the five-step Saffir-Simpson scale, and quickly lost power, becoming a tropical depression with winds of 25 mph (35 kph). Around 100,000 on the coast were evacuated.
The storm was not seen affecting Mexico's oil production, which is centred to the southeast of the landfall area.
The storm knocked down three power transmission lines leaving 85,000 homes along the coast without electricity, the Federal Electricity Commission said.
Lorenzo was the third hurricane to hit Mexico in the last few weeks after Dean and Henriette pounded its Caribbean and Pacific coasts.
Much of Veracruz state, especially north of Tuxpan, is flooded after weeks of relentless rain. Tuxpan is primarily a grain port but also home to a large Navy fleet.
Oil ports in the Mexican part of the Gulf of Mexico were all open to shipping, although some reported large sea swells.
Another tropical storm, Karen churned through the Atlantic some 780 miles_(1,250 km) east of the Windward Islands. A tropical depression also formed in the far eastern Atlantic and was about 245 miles (390 km) southwest of the Cape Verde islands.
With Lorenzo, the 2007 Atlantic storm season has generated four hurricanes, including Humberto, which startled coastal residents of Texas and Louisiana this month by unexpectedly strengthening into a hurricane before landfall.
A giant Category 5 hurricane, Dean, swiped Jamaica and then plowed into Mexico's Yucatan Peninsula in August, killing at least 27 people. Another one, Felix, tore into Central America, killing at least 130 people in Nicaragua.