The first photographic evidence that the yeti, or abominable snowman, might be more than a flight of Himalayan fancy has surfaced in public and is to be offered at auction later this month.
Four photographs of large paw prints in the snow beneath Mount Everest are to be sold at Christie's in London on September 26.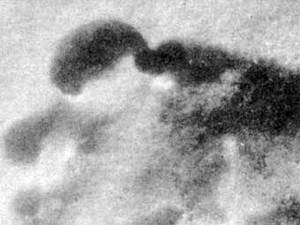 ©Eric Shipton
The images were taken by the legendary British mountaineer Eric Shipton on a reconaissance trip to Everest in 1951, in preparation for the first successful ascent of the 29,028 ft peak two years later.
Tom Bourdillon, who was also in the reconaissance party, later gave Shipton's black and white prints, which measure 6ins by 4ins, to a friend, Michael Davies.
Mr Davies' descendants are now selling the historic souvenirs, which are expected to fetch £2,500.
The first European claim of a sighting of a large bear-like beast in the Himalayas was made in 1925, but there was no photographic back-up until Shipton's pictures.
On the back of one of his images, Bourdillon wrote to Davies about the team's sighting of the prints.
He said: "We came across them on a high path on the Nepal-Tibet watershed during the 1951 Everest expedition.
"They seem to have come over a secondary path at about 19,500ft down to 19,000ft where we first saw them and then went on down the glazier.
"We followed them for the better part of a mile. What it is I don't know, but I am quite clear that it is no animal known to live in the Himalaya and that it is big."
Edmund Hillary, who first climbed the mountain with Tenzing Norgay, later said in a book that a member of his successful party had found a tuft of long black hairs on a rock. The hairs were said to look like bristles.
Publication of Shipton's pictures prompted several expeditions to search for the yeti but they all proved to be inconclusive.
The photographs are included in a two-day Christie's sale devoted to exploration and travel.
Other star items include the first aerial photographs of the summit of Everest taken by Colonel Stewart Blacker in 1933 (estimate £6000) and a poignant souvenir of Captain Robert Scott's ill-fated race to the South Pole in 1912, the white canvas cover of Captain Lawrence Oates's sleeping bag.
It was retrieved from Antarctica by a search party after Oates left Scott and the rest of the doomed team, leaving his tent in a blizzard with the now-famous last words: "I am just going outside and may be some time."
The cover is expected to fetch £40,000.