The weather bureau says the current low pressure system over south-east Queensland is "a freak event" that has not been seen in Australia since the 1800s.
The system has left backpackers and Indonesian sailors stranded on the coast and substantial rainfall in the Condamine River catchment in inland southern Queensland.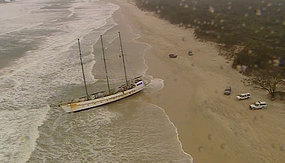 ©ABC News
Indonesian sailors ran aground on Rainbow Beach yesterday.
Senior forecaster Jeff Callaghan says this sort of weather has amazed everyone because it usually happens much earlier in the year - in autumn and early winter.
"They occur April, May, June and early July generally, or up to about the 20th or 25th of July," he said.
"But they're very rare in August and the last one we can find was probably in the 1880s.
"
They just don't happen. I mean we know that they do happen now - but they haven't in the past through the 20th Century
."
Backpackers stranded
Fisherman, backpackers and Indonesian sailors alike are waiting in Rainbow Beach near Gympie in southern Queensland for the weather to calm.
The rain depression that has caused flooding on the Sunshine Coast and earlier cut the Bruce Highway between Maryborough and Tiaro is still dumping rain across the region.
British backpacker Samantha says she had hoped to be on Fraser Island by now.
"We're in torrential rain and I feel like I'm back home in the UK," she said.
The Indonesian navel attache and the commanding officer of the Indonesian sailing ship that ran aground yesterday at Inskip Point will inspect the schooner soon and remove the 18 sailors' personal belongings.
The Australian Navy's commander Forbes Peters says the salvage operation will be discussed later but it is unlikely to start today because of the weather.
Condamine flowing
The wild weather is good news for drought affected Condamine River in southern inland Queensland, which is flowing again after more than a 100 millimetres of rain fell in the area's catchment this week.
Local woman Julie Johnson says you could go white water rafting this morning, but last week the river was just stagnant puddles.
"The river is still rising, we had good rain again overnight, the springs have opened up and all the unnamed tributaries have started to flow in and it's fantastic," she said.