The radar screen confirmed what the torrential rain was suggesting Sunday morning: Tropical Storm Erin had confused Oklahoma for the Gulf Coast.
In what the National Weather Service termed "an extraordinary event,"
the storm re-intensified just south of the Red River and developed sustained winds greater than tropical storm magnitude
.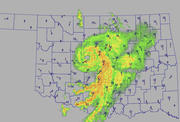 ©Oklahoma's Mesonet
This image provided by the Oklahoma Mesonet shows the remnants of Tropical Storm Erin as it moved across Oklahoma just before 6 a.m. Sunday.
The result: Numerous towns and cities received 5 inches or more of rain, and a several volunteer observers for the Oklahoma Climatological Survey reported 10-plus inches.
"It's not uncommon for the remains of a tropical system or the moisture from one of those storms to have some impact in Oklahoma," said Rick Smith, a meteorologist for the National Weather Service.
"But certainly, to see what we saw on satellite, where the system reorganized and had the look of a very well-organized system like you'd see over the Atlantic or the gulf, that's really rare," he said.
The storm system hardly resembled what a tropical storm, or even a hurricane, is supposed to look like three days and 450 miles after landfall.
"If you removed the map and took that satellite image and put it out in the Gulf of Mexico somewhere, you couldn't tell the difference from a tropical storm," Smith said.