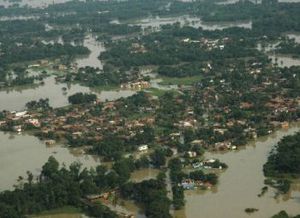 ©Ranjeet Kumar
SWAMPED: An aerial view of a part of Darbhanga district in North Bihar on Saturday.
The State Government on Saturday owned the blame for the police firing on flood victims in which one person was killed and three others were injured in Madhubani on Friday.
A two-member administrative team, comprising Home Secretary Afzal Amanullah and Additional Director General CID Yashwant Malhotra, held the police firing "unwarranted" and placed Havildar Aditya Narain Singh, who opened fire, under suspension.
Police have lodged a criminal case against the havildar.
The probe team has promised a compensation of Rs. 1 lakh ($2,500) to the family of the victim Darshan Thakur.
The Opposition parties led by the RJD, which were already fuming at the delay in the Chief Minister's return from Mauritius, demanded a judicial inquiry into the firing.
The firing was the outcome of a ding-dong battle over cutting a protective barrier. The administration, police and some locals of Madhubani town were on one side and the villagers of Chakdah on the other.
The administration tried to cut the rail track to let out floodwater that caused havoc in Madhubani and ease the situation in the town.
The villagers of Chakdah, fearing that this would flood their houses, threw stones and forced the police to retreat. The Deputy Magistrate and the Superintendent of Police arrived with reinforcements, but the villagers were unrelenting. They turned violent and attacked the police, injuring several of them, and even burnt a jeep. The police opened fire.
RJD MP Motiur Rehman and former MP Madan Prasad Jaiswal had a miraculous escape after the boat in which they were carrying relief for the 700 students stranded in a madrasa capsized near Majhaulia in West Champaran district. Both were rescued.
Two IAF helicopters commenced relief operation on Saturday, air-dropping some 1,500 food packets in four blocks of Darbhanga district. Two more helicopters were expected to join the operation on Sunday.
Relief was inadequate. Just 180 litres of kerosene was distributed till Friday, though 10 million people had been displaced.