Emergency services evacuated hundreds of homes in the university city of Oxford today as the River Thames broke its banks and Britain grappled with its worst floods in 60 years.
Water levels rose steadily overnight and police said they had cleared up to 250 homes and gave people shelter in Oxford City's soccer stadium. Some power was cut but the defences of the local electricity substation were not breached.
Along the Thames, residents in other towns were warned that the river could go on rising throughout the day.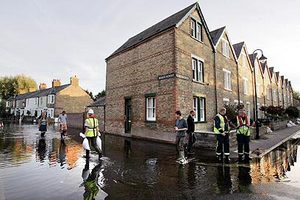 ©AFP
In Gloucestershire, the western English county worst hit by the deluge, up to 350,000 people could be without running water for the next two weeks - but the flood waters have started to recede along the River Severn.
The Government has promised £10 million ($23.5m) in aid for the stricken areas in addition to the £14m initially pledged by Prime Minister Gordon Brown.
"We are looking at 21st century extreme weather conditions," Mr Brown told BBC television yesterday after a tense day monitoring how emergency services coped with the flooding that deluged huge swathes of central and western England.
Less than one month into the job as Britain's new premier, he said everything had to be looked at from infrastructure and drainage to where utilities were located to combat extreme weather conditions.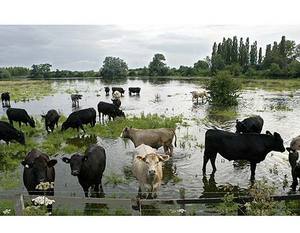 ©AFP
Asked if the Labour Government had done enough over the past decade in office, Mr Brown said investment in flood defences had already been doubled to £600m ($1.4 billion) before the current crisis "so we are aware more has got to be done for defences".
One power distribution station at Walham came perilously close to flooding with emergency services working frantically to shore it up as the water came within six inches of breaching defences.
That would have left up to 500,000 people without power and plunged hospitals, stores, shops and homes into chaos.
The flooding turned the historic market town of Tewkesbury into an island where only the 12th century abbey stood unscathed on high ground. Lifeboats scudded down the main street, boats moored in car parks.
While Britain struggled with floods, central and southeast Europe faced a heatwave.
Up to 500 people are estimated to have died in Hungary as temperatures soared, and the heat also killed 12 Romanians.
Britain's Environment Secretary Hilary Benn warned the crisis was far from over and had "caused considerable human distress."
A teenage boy is still missing in Tewkesbury, one man died in a flooded cellar and a woman trapped in the floods lost her premature newborn twins despite being rescued by a Royal Air Force helicopter.