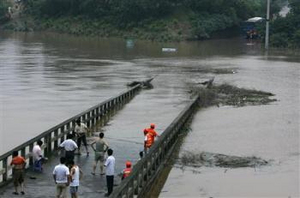 ©Reuters
Local residents check a bridge which is partially submerged by the floods in southwest China's Chongqing municipality
China flooded dozens of evacuated villages on Tuesday to ease pressure from a swollen river after torrential rains that have killed more than 100 people nationwide.
Flood waters were diverted from the Huai River in the eastern province of Anhui, after the Mengwa area, with 75 villages, was evacuated, Xinhua news agency said.
"The move is expected to bring relief to residents in Henan province, where the upper reaches of the Huai River run, and alleviate pressure on downstream sections," it said.
"However, the impact on the residents ... will be limited as most of them have built their houses on elevated platforms," Xinhua said. "Those who live in low-lying locations have moved to higher ground."
Eleven people have been killed in floods in Anhui so far and more than 430,000 residents were stranded, with a quarter of them facing drinking water shortages, Xinhua said.
The Mengwa area, in an impoverished wheat-growing part of north Anhui, has been submerged by the notorious Huai River flood waters more than 10 times since it was set up in 1953, state media said.
The 180 sq km (70 sq mile) area suffered 1 billion yuan ($132 million) of direct economic losses when flood water was diverted from the Huai River in July 2003, Xinhua said.
The rain has caused floods and landslides which have killed at least 101 people in at least six provinces since late June, the People's Daily said. At least 26 people were missing.
More rain was forecast for the next three days along the Huai River, flowing through the central province of Henan and the eastern provinces of Anhui and Jiangsu.
A total of 545 people were killed by natural disasters in China in the first half of the year, according to a report released by the Ministry of Civil Affairs on Monday.
Another 78 people went missing as a result of natural disasters, including floods, landslides, mudflows, gales, snowstorms and earthquakes.
The typhoon season is under way in the South China Sea and a tropical storm was gathering strength east of the Philippines on Tuesday, headed for the China coast.
In the central province of Hunan, an estimated 2 billion field mice were chewing their way through crops in 22 counties around a lake after their homes on islands were flooded, Xinhua said on Monday.
Local authorities were rushing to build walls and dig ditches to keep the mice away from flood-control dykes and cropland.