NORTHAMPTON, Mass. -- Fred Knittle wears his belt up high. His nose is tethered to an oxygen tank, and on stage he's confined to a folding chair. From this unlikely perch, he's turning rock 'n' roll on its head.
Singing Coldplay's "Fix You," Knittle transforms the song into a powerful ballad about a grandfather's healing wisdom. It means something different coming from an 80-year-old retiree suffering from congestive heart failure.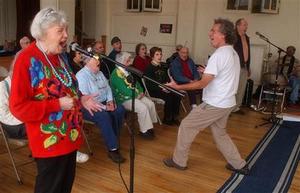 ©AP
Young at Heart Chorus member Elaine Fligman, left, belts out the lead vocals as director Bob Cilman, white shirt, directs the rest of the chorus during a rehearsal at the Florence Civic Center on March 13, 2007 in Northampton, Mass. (AP Photo/Nathan Martin)
Knittle is a singer for the Young@Heart Chorus, whose members range from 73 to 92 years old. Singing songs they shouldn't even know, at an age when they're expected to be sitting quietly somewhere, they subvert all accepted notions of old and young.
Songs by bands like the Radiohead, OutKast and Nirvana take on a new dimension when performed by these 23 foot-stomping senior citizens. "Fix You" or the Clash's "Should I Stay or Should I Go" become about life and death.
Though little known in America, the Northampton-based Young@Heart has performed from Australia to London, serenaded the king and queen of Norway, been discussed on "The Daily Show," and been documented in an acclaimed film for British television. They're now recording an album tentatively titled "Rockin' At Heaven's Door."
It may sound like a gimmick, but Young@Heart is no karaoke act. They're a cover band for the ages.
---
"All we've ever had is now." - Jack Schnepp, 77, singing the Flaming Lips' "All We Have Is Now."
---
Inside a Young@Heart rehearsal in Northampton, Bob Cilman, 53, is pretending to throw his shoe at Jack Schnepp for missing his cue on Bruce Springsteen's "Dancing in the Dark."
After a laugh, the shoe returns to Cilman's foot, but more lighthearted threats will surely follow. Whipping his chorus into shape before their spring concert at Dartmouth College is hard work, and Cilman is a taskmaster who refuses to baby his elderly singers.
"I hated Bob when I first came into the chorus," says ex-Marine Steve Martin, 79, whose youthful vigor is only hinted at by the convertible he drives. "He's insane. It took me a while to trust him."
Young@Heart is the brainchild of Cilman, whose generous heart beats with a provocateur spirit. He directs the chorus through unique arrangements of music the singers spent their lives telling their kids and grandkids to "turn down!"
He's been having his baby-boomer revenge for 25 years.
"It's making these people sing stuff that they really didn't want to hear their kids listen to," says Cilman, grinning. "They really were upset about it."
Founded in 1982, the chorus grew out of a lunchtime sing-a-long at a meal site for the elderly run by Cilman. He was struck by a deadpan version of Manfred Mann's "Do Wah Diddy" sung by a woman in her late 80s.
"I just realized, 'Wow, there's something here. We can explore this,'" remembers Cilman, who is director of the Northampton Arts Council. (The chorus is funded by the town of Northampton, the Massachusetts Cultural Council and the National Endowment for the Arts.)
In the past decade, the chorus has done 12 tours in Europe, Australia and Canada. They took up residence at the Lyric Hammersmith in London for a ten days in 2005, and made Norwegian royalty cheer their version of a-ha's "Take On Me" in 2001.
"I don't know how many more 15 minutes we'll have in our lifetime," jokes Martin.
They perform with an expert band that includes William Arnold Jr., who played drums for Motown great Junior Walker
Being edgy - not cutesy - is a constant aim of the chorus, which also performs theatrical productions. Cilman has paired them with a gay men's chorus and a troupe of break dancers. The chorus' touching name, he says, was "the last democratic decision the group made."
Some in the group were apprehensive about a performance at the Hampshire County Jail. The prisoners first eyed the chorus derisively, laughing at their expense. By the time the last lines of Bob Dylan's "Forever Young" were sung, the applause was overflowing; the tattooed, hardened criminals were a blubbery mess.
---
"My future is static / It's already had it." - Steve Martin, 79, singing Sonic Youth's "Schizophrenia."
---
The chorus has had a great deal of turnover, with few members left from the early '80s. Cilman estimates he's attended more than 70 funerals through the years.
"It's not as difficult as you'd think because you get to be with these people at a pretty great moment at the end of their life," he says. "You know that they had something really great going on right at the end."
Joseph Mitchell, 75, never sang before he joined the chorus last year. "I'm a shy person, but they brought it out of me," says Mitchell.
Others have more experience. Louise Canady, who has been in the chorus for two years, was a trained opera singer whom Cilman relentlessly recruited. "I was harassed," says Canady, whose version of U2's "One" could give Bono (or Mary J. Blige) a run for the money.
Jeanne Hatch, an 80-year former drama teacher, began singing as just a 4- or 5-year-old, when she appeared on a radio variety show called "Kansas City Kitty's Review." With a hearty laugh, she explains that when Cilman announces "Take five" in rehearsal, "Man, there's a mad dash to the restroom."
Most of the chorus members have full, active calendars with events ranging from grandchildren visits to bicycle trips to harmonica groups called the Golden Age Harmonicats.
"They say 60 is the new 40," says Hatch. "Well, I say 80 is the new 60!"
Stan Goldman, 77, has to occasionally sit down during performances because of arthritis in his left thigh. "Too many elderly folk lead such sedentary lives, that they just sit and sit and age and age," he says. "My feeling is, if you don't keep moving, you're going to be a target for something."
Most of the chorus members - like Goldman - listen to jazz, opera or classical, and have only a faint awareness of the music they sing. The songs are as foreign to the chorus as Wagner is to teenyboppers.
"'I swear that I don't have a gun' - I mean, what's the meaning of that?" Goldman gripes, quoting Nirvana. "I sometimes ponder the songs that are given to us. I ponder the meaning and I come up with nothing. I figure I'll roll with the punches."
Martin, in kind, rattles off a few of the lyrics he finds absurd. It takes a minute before it's clear that he's singing "Pump It" by the Black Eyed Peas.
---
"I feel good, like I knew that I would now." - Dora Morrow, 85, singing James Brown's "I Got You (I Feel Good)"
---
Knittle left the chorus about five years ago after a heart attack, but occasionally returns for special performances. Referring to their many tours, he's fond of saying, "I went from continent to continent until I became incontinent."
When Knittle sang "Fix You" at a 2006 concert in Northampton, it was supposed to be a duet with another chorus member, Bob Salvini. Salvini died of a heart attack just days before the concert. While his health was deteriorating, he practically crawled to rehearsal, and in his last days, he was heard singing Young@Heart songs in his hospital bed.
Another chorus member, Joe Benoit, also died before the same concert. Still, the show went on.
"It was an opportunity for me and the chorus to pay tribute to two wonderful guys," says Knittle. "I was nervous as hell. I was always screwing up the words all the way through the rehearsals."
Sitting stage right with his oxygen tank connected, Knittle's deep, calm voice sang the Coldplay tune with the "ooo"-ing backing of the chorus.
"You listen to Fred sing that song and you listen to the oxygen tank as a rhythm box, and you think, 'Oh my God, this song is really about something different when this person sings it,'" says Cilman.
Stephen Walker was there to document the concert for his film, "Young@Heart." It was shown repeatedly on British television and has been licensed for broadcast in 14 other countries. The film, which won two awards at the Rose d'Or Festival in Switzerland, was recently optioned to Working Title Films with plans to adapt it into a narrative feature, a project the chorus declined to join.
"There's a spirit there which is incredibly inspiring," Walker said speaking by phone from London. "All of us, if we're lucky, are going to get old one day. Despite the poignancy of the story, there's also tremendous hope as well."
Two clips from the documentary were posted on YouTube about six months ago - one of the chorus singing Sonic Youth's "Schizophrenia," the other of Knittle's "Fix You." The latter has been viewed by over a quarter-million people.
The chorus (and Knittle especially) have reveled in the comments posted on YouTube. One from a user named mudskipper27 read, "I have no idea why, but this made me cry! Probably because the song has a message we'd all like to hear from the grandpas we've lost."
A young fan soon volunteered to make a MySpace page for the chorus. Like a hip indie band, Young@Heart is bizarrely - but fittingly - all over the Internet. For a group that aims to bridge generations through music, the Web is just another youth-oriented realm to adapt to.
---
"And we're not little children/ And we know what we want/ And the future is certain/ Give us time to work it out." - The Young@Heart Chorus, singing the Talking Heads' "Road to Nowhere."
---
When the audience empties out of the theater at the end of Young@Heart's Dartmouth concert, they are a wide-eyed, flabbergasted mob. Few knew what to expect, and those who thought they knew are shocked.
They certainly didn't expect the chorus - all dressed in black and red - to move so theatrically, so professionally choreographed (except for the occasional dancing). Nor did they imagine that the chorus (and airtight band) would transition from song to song without break, performing for essentially 90 minutes straight.
They certainly weren't prepared for the hunched Goldman to ask, "What's colder than being cool?" and be answered enthusiastically by the chorus: "Ice cold!" And they most positively weren't ready for the chorus to "shake it like a Polaroid picture."
Most of all, the crowd - which included more than 100 students - wasn't expecting the breadth of emotion, from Pat Linderme's mournful "Fake Plastic Trees" to the rousing, hopeful finale of "Forever Young."
"I want to be these people! I had tears streaming down my face," exclaimed Lisel Murdoch, a 20-year-old sophomore, who said her grandparents never left her thoughts during the concert.
"Being here, we don't see people who are over 70 very much," she said. "It's so wonderful to see this other generation that's older and wiser and still as enthusiastic as we are."
Jarret Cato, a 22-year-old senior who sings with the a cappella group the Dartmouth Aires who opened the concert, was similarly impressed.
"They managed to speak to something that's sort of taboo in our society, which is aging and death. And they make light of it and make us realize that we're all mortal - that it's not something we should shun but embrace."
The chorus is accustomed to such a response.
"People sometimes see their parents or grandparents up there," says Cilman. "Sometimes people see themselves as older people. People don't normally just come and see nothing."
The following day, the chorus piles into a bus to drive back to Northampton: rock stars for a night, pulsing with music always.
---
On the Net:

http://www.youngatheartchorus.com/