Like most three-week-old babies, Hugo has a dummy to suckle - the only difference is his is a solution to a dog of a problem.
Staff at Wellington SPCA gave the little labrador-cross pooch and his sister, Lottie, baby pacifiers because they were becoming ill from sucking on each other.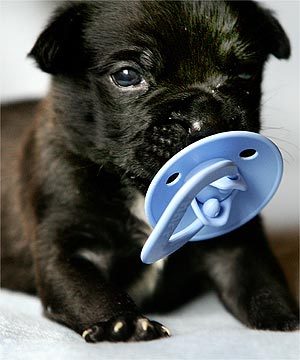 ©ANDREW GORRIE/Dominion Post
Hugo the three-week-old Labrador Cross puppy gets his teeth into a baby pacifier at Wellington SPCA.
Lottie and Hugo were just a 1½ days old and already weak when they were found earlier this month floating in a box in a rubbish bin, SPCA spokeswoman Lisa Snow said.
"They wouldn't have lasted much longer in the bin."
Ms Snow, who has been caring for the puppies after the SPCA retrieved them, contacted Wellington Hospital after a nurse friend suggested giving them dummies.
The hospital's neo-natal unit provided two pacifiers, which the puppies now happily suckle on.
The puppies have adapted well to the dummies and no longer annoy each other.
"We have not heard of it being done anywhere else," Ms Snow said.