Violent thunderstorms packing hurricane-force winds tore through North Texas on Wednesday evening, slamming trees into homes, toppling tractor-trailers and leaving hundreds of thousands without power.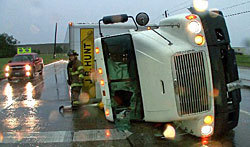 ©Michael Ainsworth / The Dallas Morning News
Ferocious winds caused an 18-wheeler to flip at Joseph Hardin and Ledbetter drives in southern Dallas.
The winds -
gusting as high as 100 mph
- caused widely scattered property and tree damage but no apparent serious injuries.
And after a brutal month of severe weather in the region, emergency officials were again left scrambling to assess damage and provide assistance.
"I'm a native Texan, and I'm 40, and I don't remember a spring like this in my entire life," said Red Cross spokeswoman Anita Foster.
"It takes a lot of effort to do a major disaster relief operation for four weeks in a row."
An estimated 250,000 homes and businesses were still without power early Thursday morning. In response, Oncor Electric Delivery opened its emergency center and called in all available crews, spokesman Chris Schein said. Damage from the storm could take crews up to a week to repair.
In addition to the power lines downed in the area, more than a dozen large regional transmission towers north of Waco had been blown over.
"This is the equivalent of having a bridge out on Stemmons or Central," Mr. Schein said.
"We are in contact with other utility companies to see if they have any of their crews that can come and assist with the restoration work," he said. "We were prepared. I don't believe anybody predicted there would be hurricane-force winds, and so that is why we have additional crews coming in to assist us."
More storms were forecast for early today, bringing another chance of flooding and strong winds.
In Oak Cliff, several families were displaced when wind ripped off large sections of an apartment complex roof. In all, about 25 units were damaged at the Plymouth House apartments, where police were being stationed to prevent looting, police Sgt. Dan Wojcik said.
Fort Worth experienced similar damage, including one home rendered uninhabitable by a tree that crashed through the roof. The Red Cross was en route to provide help to residents there.
"There have been numerous reports citywide of downed trees and power lines as well as flooded roadways," said Fort Worth spokeswoman Cecilia Jacobs. "At this time, it appears that South Fort Worth took the brunt of the storm."
Fort Worth and other cities remained on alert with more rain forecast for early today and some creeks already over their banks. Most areas received 1 to 2 inches of rain Wednesday, but some locations reported nearly 4 inches and motorists stranded by flash floods.
At Dallas/Fort Worth International Airport, about 40 flights were canceled and a dozen others diverted during the storms. Other flights were experiencing 90-minute delays, according to airport spokesman Ken Capps. American Airlines tied down all ground equipment to protect it from the wind and took passengers off aircraft that were on the ramp.
"This is the third time in three weeks we have experienced winds well over tropical storm force
, and we've been able to effectively deal with [it] every time," Mr. Capps said. "Things slow down or stop for a while, but everyone stays safe."
Wednesday's storms also hit areas still recovering from an unusually violent spring.
Last week, a series of tornadoes touched down while floods forced high-water rescues across North Texas. An April 13 tornado killed a man in Haltom City, and powerful winds March 30 damaged 51 homes in Wylie.
The National Weather Service in Fort Worth received numerous reports of wind damage Wednesday across the area - mostly from downed trees and power lines. Meteorologist Jennifer Dunn said the wind strengths were unusual for a spring storm.
"I don't remember any other event of this nature since I've been here," said Ms. Dunn, who has been in the area for almost three years.
In Plano, wind gusts blew power lines onto the roof of an unoccupied home, setting it ablaze. About 7:15 p.m., Constantin Chernikov, 20, noticed the fire from his house near the northeast corner of Legacy Drive and Custer Road.
"It's crazy because we thought it was our neighbor's house," he said. "The windows were popping out. It was scary."
Coppell - like dozens of other cities - was dealing with numerous reports of downed trees blocking roads, power outages and minor flooding.
In Cockrell Hill, a fallen tree limb came to rest against the door of a home, trapping a woman inside. Neighbors had to break away branches to help her escape.
And in south Arlington, high winds flipped a small plane at Arlington Municipal Airport.
Across the area, there were also reports of small funnel clouds and tornadoes.
Forney Mayor Darrell Grooms said his city's public works crews were dealing with downed power lines and tree limbs. A manufacturer in Mustang Business Park had its windows blown out.
"People saw some spinning in the clouds, but nothing touched down," he said. "I think it was straight-line winds that got us."
At University Assembly of God Church in Waxahachie, pastor Doug Sullivan conducted an impromptu candlelight service after power went out about 6:45 p.m. Wednesday.
Backup generators lit the chapel hall as the fellowship continued for the 120 faithful churchgoers who braved the wicked weather.
"The piano works well without electricity," Mr. Sullivan said. "We had old-fashioned church tonight. We had a lot of fun."
Staff writers Jenni Beauchamp, Stella Chavez, Eric Garcia, Jim Getz and Jon Nielsen, and WFAA-TV (Channel 8) contributed to this report.