A national recording scheme that aims to catalogue what species of moths in the UK face an uncertain future is being launched by conservationists.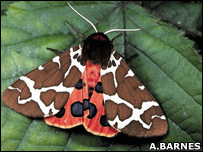 ©
Scientists are unable to pinpoint the reason for the moths' rapid decline
It is the first project in a series of initiatives designed to raise awareness about the insects' plight.
Research suggests that two-thirds of the nation's larger moth species have declined over the past four decades.
The campaign, called Moths Count, is being co-ordinated by the charity Butterfly Conservation.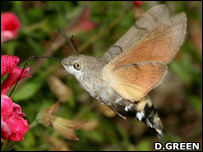 ©
Moths represent the hidden wealth of wildlife on all our doorsteps
'Grim outlook'
The monitoring scheme, which will involve thousands of volunteers across the UK, will be launch by the charity's president, Sir David Attenborough, on Wednesday.
"We must reverse these declines. If we don't, the outlook is grim," Sir David warns. "The consequences for Britain's wildlife would be too dire to contemplate."
The creatures play an important role in the maintaining a healthy landscape, explains Richard Fox, manager of the Moths Count campaign.
"Moths represent the hidden wealth of wildlife on all our doorsteps," he says. "Without moths, plants would not be pollinated and our garden birds would go hungry."
Last year, the charity published a study that suggested moth populations in the UK were in rapid decline.
However, it was not able to pinpoint the reason behind the insects' demise but suggested that the main suspects were habitat destruction, pesticides, pollution and climate change.
Butterfly Conservation says the survey will be the largest of its kind in the world, and hopefully will deliver detailed information that will allow conservation efforts to be targeted where it is most needed.
The campaign to highlight the moths' plight has been funded by a £806,000 grant from the Heritage Lottery Fund.