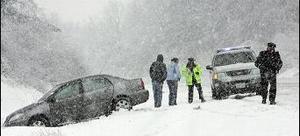 ©AP Photo/Cheryl Senter
Local police attend to a car that has spun off the road on RTE 9
NEW YORK - A powerful nor'easter pounded the East with wind and pouring rain Sunday, grounding airlines and threatening to create some of the worst coastal flooding some areas had seen in more than a decade.
The storm flooded people out of their homes in the middle of the night in West Virginia and trapped others. Other inland states faced a threat of heavy snow.
One person was killed as dozens of mobile homes were destroyed or damaged by wind in South Carolina. The storm system already had been blamed for five deaths on Friday in Kansas and Texas.
The Coast Guard had warned mariners to head for port because wind up to 55 mph was expected to generate seas up to 20 feet high, Petty Officer Etta Smith said Sunday in Boston.
Airlines canceled more than 400 flights at the New York area's three major airports, said Steve Coleman, a spokesman for the Port Authority of New York and New Jersey. Kennedy Airport, on the wind-exposed south side of Long Island, had sustained wind of 30 to 35 mph with gusts to 48 mph, said weather service meteorologist Gary Conte.
The storm forced the cancellation of five major league baseball games Sunday and gave runners in Monday's Boston Marathon something to worry about besides Heartbreak Hill. The race-day forecast called for 3 to 5 inches of rain, start temperatures in the 30s and wind gusts of up to 25 mph.
"I don't like that," professional Kenyan runner Stanley Leleito said playfully, burying his head in his hands when told of the forecast. "The problem is that wind," he said. "But only rainy is OK."
Heavy rain and thunderstorms extended from Florida up the coast to New England on Sunday. Wind gusted to 71 mph at Charleston, S.C., the weather service said.
Storm warnings and watches were posted all along the East Coast, with flood warnings extending from North Carolina to the New York area. Winter storm warnings were in effect for parts of New England and eastern New York state.
More than 5.5 inches of rain fell in the New York region by Sunday evening, the National Weather Service said. Up to 6 inches had been predicted to fall by Monday, and Conte said Sunday night's high tide was likely to bring coastal flooding on Long Island and in parts of New York City.
Gov. Eliot Spitzer sent 3,200 National Guard members to potential flood areas. On Saturday he said the storm could cause the most flooding New York has seen since a December 1992 nor'easter, which washed away beach and sand dunes, knocked out power and left thousands of people temporarily homeless, their houses standing in feet of water.
Fallen tree limbs had cut off power to 1,500 households on Long Island and Fire Island Ferries suspended service to the island, off the south shore of Long Island.
Some residents of low-lying areas along the New Jersey shore packed up to leave.
"This is going to be bad," Shaun Rheinheimer said as he moved furniture to higher spots at his house on New Jersey's Cedar Bonnet Island.
Several highways were flooded around New Jersey. "We have crews out there helping disabled motorists, but my one word of advice is to stay home," said state Transportation Commissioner Kris Kolluri.
The storm also caused flash flooding in the mountains of southern West Virginia, where emergency services personnel rescued nearly two dozen people from homes and cars in Logan and Boone counties early Sunday. Two people were unaccounted for.
"It's about as bad as it can get," said Logan, W.Va., Fire Chief Scott Beckett. "This thing came down at 2 or 3 in the morning, when people were sleeping in their beds. They just didn't know what was happening."
Some remained trapped in their homes because roads were blocked by high water or mud, said Dean Meadows, Wyoming County emergency services director.
"Our houses sit in the middle of the hill, and it's all around us. I'm surrounded, it's like a lake completely around us," said Samantha Walker, 29, who was visiting her grandmother in Matheny. "We can't get out even if we wanted to get out.
Gov. Joe Manchin planned to issue an emergency disaster either Sunday evening or Monday morning, spokeswoman Lara Ramsburg said.
Up to 2.5 inches of rain had fallen in southern West Virginia since early Saturday and streams were still rising Sunday, said weather service meteorologist Dan Bartholf in Charleston.
At least 3 inches of rain fell in eastern Kentucky, where a 50-foot section of highway collapsed near Pikeville, said State Police Sgt. Jamey Kidd. No vehicles were caught by the collapse, he said.
Dozens of homes were destroyed or blown off their foundations in several areas of South Carolina's Sumter County, but authorities didn't immediately know if the cause was a tornado or straight-line wind, said county emergency management director Robert Baker Jr. One person was killed and four were seriously injured, he said.
In central Florida, a tornado damaged mobile homes in Dundee but no injuries were reported, police said.
The storm also rained out Sunday's Washington Nationals game with the New York Mets at New York's Shea Stadium, the Pittsburgh Pirates home game against San Francisco, the Houston Astros at Philadelphia, the Kansas City Royals at Baltimore, and the Los Angeles Angels at Boston. Last weekend, snow dumped by another major storm system wiped out scheduled Mariners-Indians games at Cleveland for four straight days.
___
Associated Press writers Wayne Parry in Manahawkin, N.J., Daniela Flores in Trenton, N.J., Tom Breen in Madison, W.Va., and Jimmy Golen in Boston also contributed to this report.