Wind-whipped flames destroyed a multimillion-dollar home and damaged at least two other structures as fire consumed about 15 acres of brush in Franklin Canyon, along Beverly Drive, off Coldwater Canyon.
The fire started at about 1 p.m. in the 1600 block of North Beverly Drive. Fire officials initially reported about 50 acres burned but revised the estimate to 15 acres after surveying the burn area by air.
The blaze broke out after powerful winds toppled power lines, igniting brush behind a residence, Ron Myers of the Los Angeles Fire Department said.
Myers said strong winds spread embers onto dry vegetation. Formal evacuations were not ordered.
"I've never seen winds like this," a resident told NBC4. "It's unbelievable. The roads are covered with palm leaves and pine cones. It's a mess."
One massive home appeared to be completely destroyed.
Homeowners in the area scrambled to escape as fire crews rushed in to attack the flames. Other residents tried desperately to get into the area to check on their homes but were stopped by police and fire crews, who had blocked off streets.
The National Weather Service issued wind advisories for much of the Southland until 10 p.m. Thursday. The Weather Service reported peak winds on Thursday of 45 mph in Van Nuys, 48 mph in Burbank, 35 mph in downtown Los Angeles and 54 mph in Lancaster.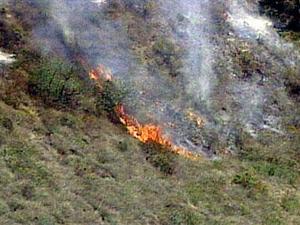 ©KNBC
Three water-dropping helicopters were at the scene. Fire crews said winds pushed some of the water drops off target.
Winds were at 25 to 30 mph with strong gusts. NBC4 forecaster Fritz Coleman said gusts afternoon reached 60 mph in some areas.
"Even though the wind is burning against (the fire), it's still burning uphill because the brush is so dry," Powers said.
Powers said the Los Angeles area has received 2.5 inches of rain since the start of 2007. Normal rainfall amounts are between 11 and 12 inches, he said.
Powers said crews used a nearby water source, the Lower Franklin Reservoir, which allowed helicopters to make frequent drops.
There were no reports of injuries.
Power Outages
High winds knocked out electricity Thursday to about 78,000 Department of Water and Power and Southern California Edison customers, authorities said.
About 15,000 Edison customers were without power, primarily in the high desert and the San Gabriel Valley, said SCE's Gil Alexander. More than 22,000 customers have been affected at various times since the high winds began slamming the area, he said.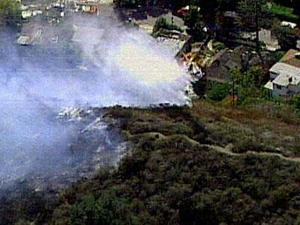 ©KNBC
About 63,000 DWP customers in the Woodland Hills, Van Nuys, Winnetka, North Hollywood, Eagle Rock, Highland Park, Sylmar, Toluca Lake, Silver Lake and the Los Feliz area of Los Angeles were powerless, said the utility's Gale Harris.
The electrical outages developed late Thursday morning and continued in the afternoon.
"Most are due to the wind," Harris said.
Alexander said he expected the number of affected customers to increase.
The hardest hit areas were Monrovia and Montebello in the San Gabriel Valley, Pico Rivera, the Antelope Valley and Cypress in Orange County, he said.
Gusting winds were howling across many parts of the Southland. The National Weather Service issued wind advisories in the San Fernando, San Gabriel and Santa Clarita valleys, and issued high wind warnings in the Antelope Valley and Los Angeles County mountains. The Weather Service reported peak winds today of 45 mph in Van Nuys, 48 mph in Burbank, 35 mph in downtown Los Angeles and 54 mph in Lancaster.
Brea Brush Fire
A blaze that blackened brush alongside the Carbon Canyon dam in Brea Thursday threatened a mobile home park before firefighters brought the flames under control, a fire captain said.
The fire, reported at 1:37 p.m. in the area of Rose and Valencia drives, grew to two to three acres before hand crews and a water-dropping helicopter stopped its spread, said Orange County Fire Authority Capt. Stephen Miller.
Crews planned to keep an eye out for flying embers that could re-ignite vegetation in the face of conditions Miller described as "a little breezy."
The fire burned the side of the Carbon Canyon dam, leaving it "pretty clean," Miller said.
The cause was unknown, but Miller said there are power lines in the area and the fire could have been sparked by a downed line.
In Palmdale, a three-acre fire broke out at North Sierra Highway and Pearblossom Highway at about 1:30 p.m.