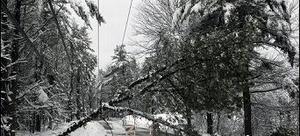 ©AP Photo/Pat Wellenbach
A tree lies on top of downed power lines in Brunswick, Maine, Thursday, April 5, 2007. ...
CONCORD, N.H. - Utility crews worked to restore power Friday to tens of thousands of northern New Englanders after a spring snowfall dumped more than a foot of snow around the region.
Some Maine residents may not get lights and heat back until the weekend, utilities warned.
Two traffic deaths were blamed on the storm, which began late Wednesday and continued Thursday.
About 65,000 homes and businesses in Maine and 11,000 in New Hampshire remained in the dark Friday morning, down from about 180,000 at the peak.
"This is a serious storm for us," said John Carroll, spokesman for Central Maine Power, the state's largest electric utility. "It's safe to estimate that it will be days before we get the final work cleaned up."
The outages began after the snow coated trees, causing them to crash down onto utility poles and power lines. Some areas experienced repeated outages as snow melted from limbs, causing them to snap back into place and hit more wires.
The storm was expected to extend the region's spring skiing season for resorts that got off to a slow start because of an early-winter warm spell.
In Maine, snowfall tallies reached 18 inches in Wilton and Hartford. Portland received 11 inches, tying the record for the fifth-biggest snowfall in April. In Vermont, Wheelock had 13 inches and in New Hampshire, North Conway got 14 inches.
Light snow showers were expected through the weekend around the region.
The hazardous weather caused two deadly accidents in New Hampshire on Wednesday. A 21-year-old man was killed after a collision in Hooksett, and another man died when his car ran off Interstate 93 and hit a tree on the Canterbury-Concord line.