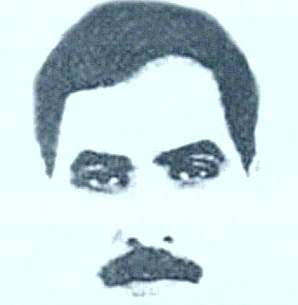 Missing Iranian general Ali Reza Asghari
'Turned' double-agents are an unfortunate breed. Caught at a "vulnerable time" in their lives by the enemy, the ones with a conscience live out their days attempting to justify their disloyalty to others and themselves. The
conscienceless ones
probably don't give it a second thought.
The question then is: is Ali Reza Asghari about to become a household name? The former deputy defence Minister and retired general in the 'elite' Iranian Revolutionary Guards
disappeared
from Istanbul, Turkey along with his family over a month ago, but it was only in the last few days that we all got to hear about it.
Several theories about the exact reason for his disappearance have been touted, including:
abducted by the Mossad
abducted by the CIA
abducted by the Mossad/CIA
'defected' and sought asylum in the West
According to a senior U.S. official
, Asghari left his country willingly and is now "cooperating with Western intelligence agencies", although he did not divulge Asgari's whereabouts or specify who is questioning him, but made clear that the information Asgari is offering is fully available to U.S. intelligence.
No doubt.
In keeping with their usual line on such matters, Israeli officials said they had nothing to do with any of it, which usually means they were in the thick of it.
Given that he disappeared along with his family however, we can more or less rule out forced abduction, with the most likely explanation being that Asghari was a long-term Israeli spy, and, since Iran is now firmly in Israel's cross-hairs, the Mossad decided that it was time to pull him out and use him to pitch the world public yet another badly-thrown
curve-ball
.
As for the Iranians, they appear to be doing their best at damage control,
claiming
that Asghari was kidnapped by the Mossad, and that in any case, he has been "out of the loop" for several years and knows nothing about Iran's embryonic nuclear program.
From 1989-1993, Gen. Asghari was allegedly stationed in Lebanon as Iran's liaison to Hezbollah and is best known to Israel as an instrumental founder of Hezbollah,
according
to a retired Israeli spy. It is likely that it was during his years in Lebanon that Asghari found himself "vulnerable" and was recruited by Israeli agents. [For the uninitiated, being "caught at a vulnerable time in one's life" means being captured by the enemy and given a 'choice' between recruitment or death].
Israeli press accounts have also identified him as the Iranian official who "knows the most" about what happened to Israeli navigator Ron Arad, who was reportedly "sold" to Iran after his plane was shot down over southern Lebanon in 1986.
Arad, an IAF navigator, was captured by the Lebanese Shiite Amal militia after ejecting from his warplane, shot down over southern Lebanon in 1986. Reports have also said that members of the Iranian Revolutionary Guard took Arad in 1988 and transported him to Iran.
Most of the claims about the where, what and 'whoabouts' of Asghari have been made by the London-based Arabic and English language newspaper '
Asharq Alawsat
', which is
"a major pan-Arabic daily newspaper, with a circulation of 200,000, printed simultaneously on four continents in twelve cities. It was founded in London, United Kingdom in 1978. It is still based in London, but it is now edited by the Saudi Research and Marketing Ltd. and directed by Saudi prince Salman bin Abdul Aziz, half-brother of the king."
Or in other words, an Israeli and American 'Arab' mouthpiece.
It is no surprise therefore that the newspaper is able to claim that its source is an "Iranian military official" who nevertheless seems to know an alarming amount about what the Western intelligence agencies that are currently hosting Asghari are actually doing with him. For example,
according to Asharq Alawsat the Iranian official knows that
:
Ali Reza Asgari is staying in a northern European country, where he is receiving "excellent treatment" and that he is "being interrogated by American and other Western intelligence officials on secrets he was exposed to while serving as the Defense Ministry's chief consultant for strategic affairs."
But it gets better.
Ynet
news reports:
The Iranian source, who was also a senior member of the Revolutionary Guards in the 1980s, said Asgari is being questioned by military experts for several hours a day regarding the Guards' role in the bombing of the 1983 bombings of the US Marine and French Corps headquarters in Beirut.
And there I was thinking that everyone already knew that it was the Mossad who warned the US over meddling in its plans for Lebanon by
bombing the US Marine barracks in Beirut '83
. Shows what I know.
To get the best idea of the political warmongering capital that will be derived from the "defection" and the use to which it will be put, we turn to the
UK's Neocon daily, the Telegraph
where we read:
A former Iranian spy chief was suspected last night of defecting to the West, raising the prospect of a timely intelligence bonanza amid tensions with Teheran.

While the speculation was impossible to verify, it is hard to imagine a more tantalising prospect for Western intelligence agencies than the defection of General Ali Reza Azkari, who is known to have served in Lebanon in the 1990s liaising with Hizbollah. He could provide key information about Iran's role in supporting the Shia militias in Iraq.

Washington has grown increasingly angry at Teheran's willingness to supply weapons and know-how to insurgents.

The stand-off over Iran's nuclear programme is underscored by a fundamental lack of good intelligence on exactly what technology Iran possesses and when it might be able to construct a nuclear weapon.

Any intelligence that would help Israel or the West to fill in those important blanks would have direct bearing on whether an armed strike were launched against Iran.



America has said that "all options remain on the table" as regards to stopping Iran acquiring nuclear weapons, which is diplomatic code for a military threat.
So the "intelligence bonanza" from Asghari looks like it could tally up to include any or all of the following:
information that Iran has a nuclear weapon (and is planning to use it)
information that Iran was responsible for the bombing of the US Marine barracks in Beirut in 83 (the one Israel did)
information that
Iran is involved in attacks
on US forces in Iraq
information that Iran is supplying Hizb'allah with weapons
information that Iran took possession of (and possibly killed) an Israeli airman in the 1980's.
Does such a bonanza of data, albeit based on the uncorroborated claims of a long-time Iranian double agent, amount to just cause to attack Iran and murder thousands, or millions or Iranian civilians, not to mention kick starting a massive "terrorism" (some or all of it false flag) backlash?
In Bushzarro Zioneocon world, you better believe it. After all,
the word of a known drunk and liar
and
a few badly drawn pictures on a scrap of paper
was more than enough to dispatch 1 million Iraqis and begin the
extermination in earnest of the Palestinians
.