When Private Walter Butler posted a card to his sweetheart from the trenches in the First World War, neither thought too much about it when it failed to arrive.
Pte Butler, who was fighting on the Western Front with the Dorset Regiment, went on to marry his girlfriend, Amy Hicks, and the pair lived long and happy lives in Chippenham, Wilts.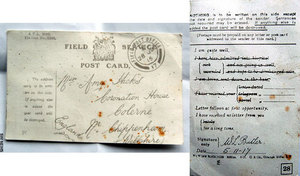 ©Telegraph
Pte Butler's card mysteriously re-appeared in a postman's delivery sack
Last week the card mysteriously reappeared when Martin Kay, a postman, found it had been placed in his delivery sack. With Pte Butler and his wife now dead, he tracked down their only daughter, Joyce Hulbert, 86, and delivered it, 90 years too late. Mrs Hulbert said: "I would love to know where it has been all this time."