After his secretary conveyed psychic Jeane Dixon's prophecies about terrorism, President Nixon ordered Henry Kissinger and others to prepare for attacks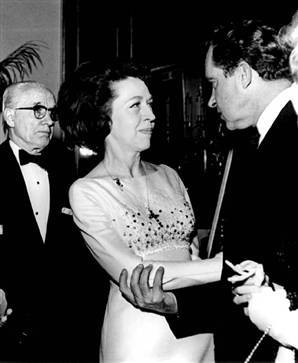 ©Jeane Dixon Museum and Library, Strasburg, VA
Dixon greets Nixon in this undated photograph from the 1960s. The psychic's husband, James Dixon, stands behind her.
Assigned to research the history of U.S. counterterrorism policy, a September 11 Commission researcher last year stumbled upon a bizarre discovery: in the aftermath of the Munich Olympic massacre in 1972, President Richard M. Nixon was briefed on terror plots that had been divined by professional psychic Jeane Dixon.
The relationship between Nixon and Dixon, whose followers believed had prophesied the assassination of President John F. Kennedy, has been almost entirely overlooked by historians. But Dixon's supply of psychic "intelligence" to Nixon is fully documented on little-noticed White House tapes. They show that the president's loyal secretary, Rose Mary Woods, gave the president detailed briefings on offbeat national-security forecasts from a woman that Nixon called "the soothsayer."
In what University of Virginia historian and 9/11 Commission researcher Timothy Naftali calls "one of the oddest moments in the history of U.S. counterterrorism," Woods alerted Nixon to some of Dixon's most alarming warnings during an Oval Office meeting that took place on Sept. 19, 1972, between 3:27 p.m. and 3:42 p.m. This meeting (which has never previously been detailed) took place just two weeks after nine Israeli Olympic athletes kidnapped by Palestinian terrorists were killed during a botched rescue attempt by West German authorities.
"There are going to be killings here in America, bombing of Jews," Woods told the president, explaining she had just been told this in a recent session she had with Dixon. The psychic (who at the time wrote a newspaper astrology column) warned that Jewish leaders were going "to commence attacks on you [Nixon] for not protecting them," according to Woods's briefing. But she said Dixon was concerned for the president - and advised him not to "say something."
Dixon's reasoning: there were so many prominent Jewish Americans ("all the big radio stations and TV stations and the newspaper people are Jewish people") that "there was no way to protect them."
One possible terror target was Washington Post Publisher Katharine Graham, whose father was born Jewish. "Harm could come to Kate Graham if she opens some package in her office - not her house," Woods reported to the president. "But [Dixon] is not going to pass that on, she's not going to call Graham and tell her this." [NEWSWEEK is owned by The Washington Post Co.]
Woods also reported that Dixon was very focused on Alan King, the TV comedian who had recently cohosted a telethon to raise money for the Democratic National Committee. "Her thoughts are breaking toward [King]," Woods said. King could be one of the targets of the terror attacks, Dixon thought - "or he could be backers of this thing."
In the course of this meeting - the tape of which was reviewed this week by NEWSWEEK at the National Archives - Nixon initially says little about what he makes of Dixon's forecasts. But as Naftali writes in "Blind Spot: The Secret History of American Counterterrorism," his forthcoming book based on his research for the 9/11 Commission, Dixon's forecasts soon prompted Nixon to launch into a "diatribe" against a frequent target of his wrath: the Jews.
Referring to lobbying from Jewish groups for greater Jewish emigration from the Soviet Union, Nixon erupted: "Why the hell do we care about [Soviet exit permits for Jews]? Why should the Jews get out and not the Ukrainians? Why should the Jews get out and not the Poles?"
Still, Dixon's prophecies may well have spurred the president into action. Later that day, Naftali notes, Nixon called Alexander Haig, top deputy to national-security adviser Henry Kissinger, and instructed him to make sure the FBI had contingency plans for dealing with a terrorist incident in Washington or New York.
The subject of Dixon's prophecies returned to the Oval Office two days later when Nixon met with Kissinger for a discussion of the terrorism threat. Kissinger reported that he had just talked with Israeli Ambassador Yitzhak Rabin. Nixon referred to the "tremendous pressure" the Israelis were under because of Munich. He then instructed Kissinger to create a "governmentwide" counterterrorism committee - and seemed to offer an unusual explanation as to why.
"Rose talks to this soothsayer, Jeane Dixon, all the time," Nixon told Kissinger, according to a tape of the Sept. 21, 1972, meeting. "They are desperate that [the terrorists] will kidnap somebody. They may shoot somebody. We have got to have a plan. Suppose they do, for example, Henry, suppose they kidnap Rabin? And they ask us to release all blacks who are prisoners around the United States. And we didn't and they shoot him? Think of it! What the Christ do we do? We are not going to give into it. We have got to have contingency plans for hijacking, for kidnapping, for all sorts of things that can happen around here."
As Naftali writes in his book, Nixon at first took the idea of the government terrorism committee seriously - and pushed Kissinger on the issue in the days ahead. He wanted both Acting FBI Director L. Patrick Gray and CIA Director Richard Helms on the panel so intelligence would be coordinated at the highest level. "I don't want a bunch of ... jerks from State," Nixon told Kissinger in a meeting on Sept. 25, 1972. "No, no," Kissinger replied. "This is a cabinet-level committee ... lots of prestige."
But the issue soon faded and, according to Naftali, the terrorism committee spurred in part by Dixon's prophecies was all but forgotten. It met only once, in October 1972 - and then was replaced by another executive-branch terrorism committee in 1977 under President Gerald Ford. Interviewed by Naftali, Haig called the Nixon terrorism committee "a charade."
But Nixon's relationship with Dixon clearly wasn't - even if nothing was publicly known about it at the time. Five years ago, the Chicago Tribune became the first and only news outlet to report Dixon's Oval Office connection, though the newspaper did not explore the post-Munich terror warnings that were uncovered by Naftali. A further passing reference to Dixon was made in a Los Angeles Times story about the Nixon tapes in 2003.
If Nixon's dealings with Dixon had become public during the time of his presidency, it unquestionably would have been major news. Dixon, who died in 1997 at the age of 79, catapulted to international fame after Kennedy's assassination in 1963. Her devotees pointed back to an interview she had given to Parade magazine in 1956 in which she predicted that a Democratic president would be elected in 1960 - a tall young man with blue eyes and brown hair who would die in office. Dixon later claimed that she had specifically predicted this tall young man would be assassinated, but that Parade editors deleted this part from the story.
But Dixon also made many other predictions that were wildly off the mark. She predicted, for example, that World War III would erupt in 1958 over the offshore Chinese islands of Quemoy and Matsu. She predicted that the Soviets would beat the United States to the moon. She predicted that cancer would be cured by 1967. In perhaps her strangest prophecy, she predicted that a baby descended from the Egyptian Queen Nefertiti would be born in the Middle East in 1962 and grow up to usher in an era of world peace - until he turned out to be the Anti-Christ.
Her forecasts grew so unreliable that one of her most prominent clients, astrology buff Nancy Reagan, concluded that Dixon had lost her powers and shifted to a rival astrologer, Joan Quigley, who provided advice while she and her husband were in the White House.
Still, none of Dixon's seemingly wacky predictions seem to have shaken Nixon's faith. White House tapes show Woods (who died in January at the age of 87) provided Nixon with Dixon briefings on a wide range of subjects, covering such matters as the Panama Canal, nuclear arms talks with the Soviets (Dixon thought arms negotiator Paul Nitze "could be a double agent") and the president's prospects during the Watergate crisis. "Jeane Dixon tells us that May and June are going to be pretty bad. June may be worse than May. But everything will turn out fine," Woods told Nixon on May 14, 1973.
The president also had at least one documented Oval Office meeting directly with Dixon - a 36-minute session on May 4, 1971. The tape of that meeting may provide insight into why the president was so keen to hear her forecasts.
In the meeting, also attended by her acolyte, Woods, Dixon tells the president in an excited voice how she had just met with antiwar protesters who were gathering in Washington. She told how she had recounted to the protesters what happened during her first international interview in 1949. She was asked about "a young man that God was gonna make great." Dixon explained that she had meditated on this for a while. Then 10 days later it started to come to her.
"And I got your channel," Dixon told Nixon. "It is because it is God's plan for you, for you to be president of the United States." Dixon explained how she had told all this to the protesters, telling them "that the Lord intended Nixon to be great ... He's here now to lead us to Christ, the prince of the universe."
While Congress was fighting with Nixon, the bickering could end, Dixon said. "We'll all get together and we'll band united under the head of actually the father of our country - that's our president. And it happens to be Nixon."
"Yeah, well, I tell ya," Nixon replies. "Y-you could sell almost anything."