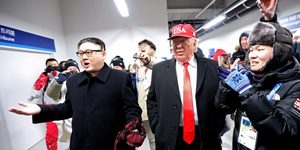 Did The Donald and Rocket Man secretly meet at the Winter Olympics in PyeongChang?
"In keeping silent about evil, in burying it so deep within us that no sign of it appears on the surface, we are implanting it, and it will rise up a thousand fold in the future. When we neither punish nor reproach evildoers, we are not simply protecting their trivial old age, we are thereby ripping the foundations of justice from beneath new generations."
- Aleksandr I. Solzhenitsyn
Recent Comments
According to de Mistura, he sees for the first time in four years that large countries are directly involved in the conflict in Syria, and "this...
---
Hypocrisy if I recall Georgie Soros interferes across the globe unfettered and with no consequences but hey that's fine Mueller is a usable idiot...
---
It's all preparations for the solar minimum.
---
Crafted in the USA by Americans for Americans!
---
Caligula lives!