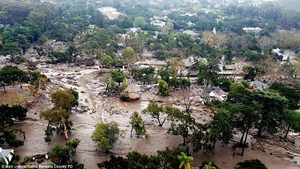 9 January 2018: Mudflows cause at least 20 deaths in Montecito, California
Each of us tend to think we see things as they are, that we are objective. But this is not the case. We see the world, not as it is, but as we are - or as we are conditioned to see it.
- Stephen. R. Covey
Recent Comments
For all anyone knows, The DUP and The ScotNats have been/will be in receipt of 'deep state tweaking', and perhaps there'll be some kind of...
---
is it Kurdistan, or Turdistan, the new u.s./zionland created "shithole"?
---
"With everything that is in play, perhaps even the Establishment faction that wants out of the EU..." Someone's got too many baby Brit devils...
---
If a dude in a hoody with a gun pulls me over in an unmarked 1990's whatever it is......I ain't stopping. Thugs
---
Some hit-and-miss, but mainly pretty interesting speculations re: 'Who is Julian Assange?' from RichPlanet TV....[Link]