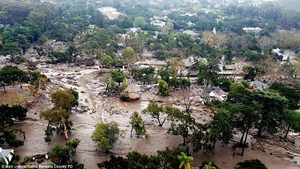 9 January 2018: Mudflows cause at least 20 deaths in Montecito, California
People convince themselves of their own lies, becoming victims of their own inventions as they begin to direct their lives by standards of behavior, ideas, feelings, or instincts which do not correspond to their inner reality. What is truly serious in this matter is that the individual loses all points of reference regarding what comprises truth, and what comprises lies. He becomes used to considering as true only that which is convenient for his personal interests; everything that is in opposition to his self-esteem or in conflict with already established prejudices, he considers false.
- John Baines
Recent Comments
Bill Gates was largely responsible for afflicting American schoolchildren with Common Core. He should be made to pay to fix that.
---
didn't think the Poles were bothered about war memorials being desecrated and vandalised .... where did the Russian memorials end up?
---
... Using a "gravity tractor" to change its trajectory ... A gravity tractor (GT) is a theoretical spacecraft that would deflect another object in...
---
After looking into the detalis in the Swedish paper Aftonposten: [Link] I conclude that it is true that the focus is on the perceived...
---
Russia-Gate; Murder-Gate [Link]