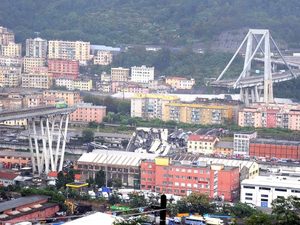 14 August 2018: Morandi Bridge in Genoa, Italy, collapses during a storm, killing 35 people
The eye sees only what the mind is prepared to comprehend.
- Robertson Davies
Recent Comments
It really has nothing to do with what labels people assign to themselves. Labels, in fact, are a good indicator that an individual is programmed,...
---
Almost completely kept out of the news. George Webb was digging into it, last year, thats how i know. And lots of unvoluntary organ donations...
---
Well, as they are two completely pointless organisations making a lot of pointless noise, who depend on other for any kind of possible r'aison...
---
"presents huge challenges to our understanding¨ Maybe you need some more dark electricity? Some truth, lots of speculation/disinfo here, the...
---
"...the proper study of man is anything but man; and the most improper job of any man, even saints (who at any rate were at least unwilling to...