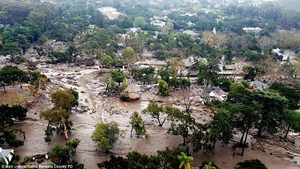 9 January 2018: Mudflows cause at least 20 deaths in Montecito, California
Each of us tend to think we see things as they are, that we are objective. But this is not the case. We see the world, not as it is, but as we are - or as we are conditioned to see it.
- Stephen. R. Covey
Recent Comments
So, that could be a question for the C´s, as it would be not possible to answer it through research: are those bees really endemic or is it a...
---
The dove from above... Triad 3-1-2. Form, applied to life, results in matter.
---
When talented people who have given a lot pass away much younger than they should ,it is like time off for good conduct we less talented have to...
---
"The scariest thing about feminism is mens reaction to it." One scary thing is men's perception of women as made manifest in the comments section...
---
I only know three songs but I was listening to them three or four days ago. Now I'm sad.