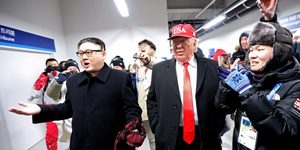 Did The Donald and Rocket Man secretly meet at the Winter Olympics in PyeongChang?
When a man knows he is to be hanged in a fortnight, it concentrates his mind wonderfully.
- Samuel Johnson
Recent Comments
I dunno, in Soviet Russia we used to eat plenty of grains(kasha), black and white bread... with plenty of butter of course... obesity was not an...
---
Good article. If one of the premises is correct, that is to drive a wedge between people, I hope it does not lead to a 'false flag' op, i.e. alt...
---
It's one big successful psy-op everyone buying in so eagerly.
---
"Life goes on, long after the thrill of living is gone"....cant imagine why anyone would want to live longer, unless they find a way to make life...
---
I think that Fat Albert's character, The Brown Hornet, would have made a better movie.