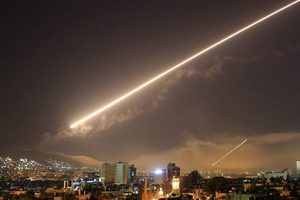 Syrian air defense systems protecting Damascus - the oldest continuously-inhabited city on Earth - from Western airstrikes, 14 April 2018
In the Truth there is no news, and in the News there is no truth
- Popular Russian saying under Soviet Communism
Recent Comments
Heh heh. Maybe they'll start harassing Smiths fans. Morrissey's far-right vegan wig-out.... "Morrissey backs controversial far-right party For...
---
Grown ass men don't get kicked of Britain for pretending to be children, ISIS terrorists are welcomed back to France, Germany, Belgium, England...
---
How interesting innocent unarmed men, women & children are being slaughtered by Jews in Israhell and not one comment on Sott condemning them.
---
Propaganda, Propaganda from whom. Propaganda can't come from individuals. Propaganda comes from states, governments or military back authoritarian...
---
It is starting; arresting people for words said, words posted, accusing people of crimes of the mind, accusing people of treason on live...