About * LightSpeed *
I am aware that "the meaning" of life does not desire to be made public. Therefore, all I am allowed to say is what many of us already know, and that being how true happiness grows deepest in the roots of service. Being at Peace, in the now and living in the moment are the basic and fundemental foundations of a healthy life and mind. To strive and live in a uncertain world with peace in our hearts and awareness of the Love offered and involved in every sunset, every flower's unfolding petals, every baby's smile, every lover's kiss, and every wonderful, astonishing, miraculous beat of our heart are the true and real ideas which give life meaning. This expose's and reveals anyone as being more unenlightened who judges and critizes those who they know or don't know, meet or not meet along life's journey with harsh words or an evil eye.
My search for enlightenment expands over 35 years. No, I do not claim to be a Guru nor do I seek followers or praise but things happen in life because they simply have to happen. "We find truth only by our own constant awareness of life". The inner expectation of the moment in facing reality is the simple state of real living that identifies with real truth.
One does not have to open their eyes so wide to see that governments will remain steadfast to promote the continuation of religions which maintain a grip on millions of people through faith and dogma. Nevertheless, the noble work is to always be in any given moment free in our heart and mind that the truth of one's being might appear and come forth!
Does the world today collectively express genius because we think, believe or know that the world is no longer flat? I don't believe so. Surly, one can say that we seem less insane to think that it is not flat, but the fact remains in five hundred years future minds will also experience new collective global understandings and in all likely hood might view us as being more crazy then our ancestors.
It is my hope that this Sott network, ideas and vision will continue as a witness throughout the ages for the masses of people who have no time to research or discover the dark ideas of state and church being pulled over our head and secretly worked out behind our backs. Thank You!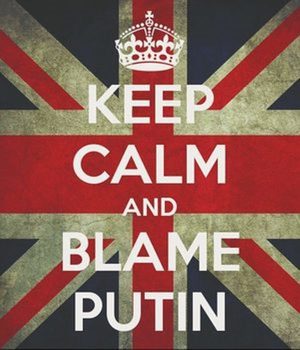 Carry on up the Moskva
Men fight for liberty and win it with hard knocks. Their children, brought up easy, let it slip away again, poor fools. And their grandchildren are once more slaves.
- D.H. Lawrence
Recent Comments
This is all going really well. It's important that the Brit, Canadian and other U.S. toadies go completely over the top. Make total fools of...
---
You have to have a thick skin to be in the tech industry. Try JUST TRY running a server especially a game server as admin if you are a whiney...
---
Can't do the time...don't do the fucking crime. How hard is that to comprehend. Kill someone I give a shit if you suffer. BUT, the (in)justice...
---
Holy crap that was funny...
---
@ demore A future with no pencils? Who uses pencils? Young people nowadays can't even sign their names. As long as they have a smart phone or pad...