About * LightSpeed *
I am aware that "the meaning" of life does not desire to be made public. Therefore, all I am allowed to say is what many of us already know, and that being how true happiness grows deepest in the roots of service. Being at Peace, in the now and living in the moment are the basic and fundemental foundations of a healthy life and mind. To strive and live in a uncertain world with peace in our hearts and awareness of the Love offered and involved in every sunset, every flower's unfolding petals, every baby's smile, every lover's kiss, and every wonderful, astonishing, miraculous beat of our heart are the true and real ideas which give life meaning. This expose's and reveals anyone as being more unenlightened who judges and critizes those who they know or don't know, meet or not meet along life's journey with harsh words or an evil eye.
My search for enlightenment expands over 35 years. No, I do not claim to be a Guru nor do I seek followers or praise but things happen in life because they simply have to happen. "We find truth only by our own constant awareness of life". The inner expectation of the moment in facing reality is the simple state of real living that identifies with real truth.
One does not have to open their eyes so wide to see that governments will remain steadfast to promote the continuation of religions which maintain a grip on millions of people through faith and dogma. Nevertheless, the noble work is to always be in any given moment free in our heart and mind that the truth of one's being might appear and come forth!
Does the world today collectively express genius because we think, believe or know that the world is no longer flat? I don't believe so. Surly, one can say that we seem less insane to think that it is not flat, but the fact remains in five hundred years future minds will also experience new collective global understandings and in all likely hood might view us as being more crazy then our ancestors.
It is my hope that this Sott network, ideas and vision will continue as a witness throughout the ages for the masses of people who have no time to research or discover the dark ideas of state and church being pulled over our head and secretly worked out behind our backs. Thank You!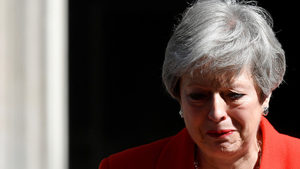 Time to say goodbye: 'Brexit' claims its second Tory PM
What fetters the mind and benumbs the spirit is ever the dogged acceptance of absolutes.
- Edward Sapir
Recent Comments
Well, it seems to be nothing more than the engineered reemergence of the Chinese empire. Trumpy might seem stupid, but these tariffs are really...
---
MSimon The myth that the similarity between chimps and humans is 99% is persistent. The similarity is closer 90% That similarities in function and...
---
Could some IDer explain why ape DNA is so much like human DNA? Wouldn't an intelligent designer do much better with each iteration? Why does...
---
My God is way more powerful than yours. My god designed the universe perfectly and hasn't had to touch it since the beginning. Your God dodn't do...
---
I love this quote's honest irreverence: ("End Note" #6.) (6) Under Obama, White House Chief of Staff, Deputy Chief of Staff, Budget Director, and...