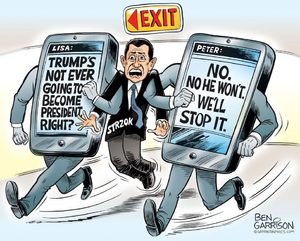 Strzok has left the building
What is truth anyway? The truth is the essence of something, its natural state, something as it really is. It is really a quest for love, because to truly love something we must know it for what it really is. Perhaps we can sense in an unconscious way that there is a deeper truth to everything and everyone, and we are led to search for the truth about it, so that we can truly love it for what it really is.
- Joe Quinn
Recent Comments
Yes gdpetti. You would have to clear your own filters ( become at-one with God) before you could wear another's shoes and feel their filters....
---
So... apparently Hillary Clinton really is Satan, she doesn't have "friends in high places", she has "fiends". That explains a lot.
---
Who over-Photoshopped the eye-whites in that pic? LindaMay read a book about so-called 'shamanism' once. Shortly afterwards she appointed herself...
---
Reincarnation as beoieved in New Age circles is not logical to me. I believe in a loving God and don't believe He would keep sending us back to...
---
Isjarvi - children are quite open to spirits around them at an early age - imaginary friends, or nightmares are just some experiences. As the...