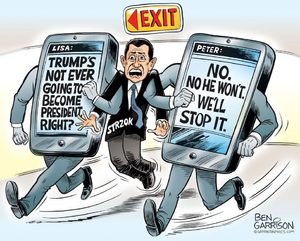 Strzok has left the building
Mystery creates wonder, and wonder is the basis for man's desire to understand. Who knows what mysteries will be solved in our lifetime, and what new riddles will become the challenge of the new generations.
- John Keel
Recent Comments
A PICTURE IS WORTH A THOUSAND WORDS Here is a picture of a bald, fat grey cat 'journalist' being fed by a haired rat of the also greying variety....
---
Perhaps the better low-carb diet is fasting. Even successive 24 hour fast repeated several times makes for easy weight loss, particularly the...
---
RATS AND COPYCATS @Good Optics: Journalists are copycats. Copycats do not catch rats, they are fed by them. ned, out
---
UNDERSTANDING EGO There are two 'sources' from which we might take our counsel. Ego and spirit. Whatever what one might say or think about ego, it...
---
It is amazing to know just how much paranoia that people have to the extent of being willing to spend a hefty amount of money just for a storage...