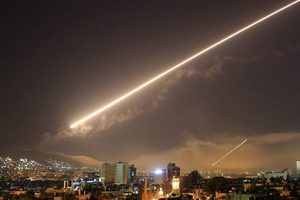 Syrian air defense systems protecting Damascus - the oldest continuously-inhabited city on Earth - from Western airstrikes, 14 April 2018
All truths are easy to understand once they are discovered; the point is to discover them.
- Galileo Galilei
Recent Comments
this is the 23rd anniversary of my awakening, this was the day I realized it's all been a gov't sponsored illusion and lie. So glad I was home...
---
What's the penalty for hiring illegals?
---
Polio vaccines contaminated with SV40 This is well documented in Edward T. Haslam's 2007 book, "Dr. Mary's Monkey," ISBN 978-1-937584-59-7 This...
---
American politicians are playing with their citizens. No wonder why you conservative who go crazy about illegal aliens. Politicians are...
---
What's the point of articles like that? Some illegal immigrant do fuck up like this man above, but that doesn't mean he's representative of all...