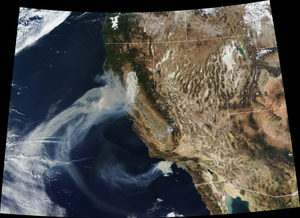 The Camp Fire east of San Francisco and the Woolsey Fire west of Los Angeles make 2018 California's worst-ever wildfire season
A radical inner transformation and rise to a new level of consciousness might be the only real hope we have in the current global crisis brought on by the dominance of the Western mechanistic paradigm.
- Stanislav Grof
Recent Comments
A 'hurricane' of dark matter, barreling along with a vast array of dark matter flotsam and jetsam PANIC ... PANIC ... PANIC PS we have never...
---
Democracy = Mob Rule The Mob with the most $$$$ have the most say,even if their motive is detrimental to everything righteous. End of story
---
Seeing that big needle in that big pear ... was the needles in strawberries really a thing ... they seem a bit too damn small
---
Over and over again, one hears about the virtues of democracy and the lamentations that it doesn't exist in our system. That's probably a GOOD...
---
I don't get it. France and her allies won WWI. The peace was even signed in France. The so-called "Free French" under de Gaulle also were among...