I've never seen an
Arietid meteor
and chances are you haven't either. Peaking on June 7-8, the Arietid (AIR-ee-uh-tid) meteor shower is one of the strongest of the year with a maximum rate of 50-80 per hour. But there's a rub. The shower radiant, the point in the sky from which the meteors appear to radiate, is near the sun and best seen during daylight hours. When was the last time you saw meteors in daylight?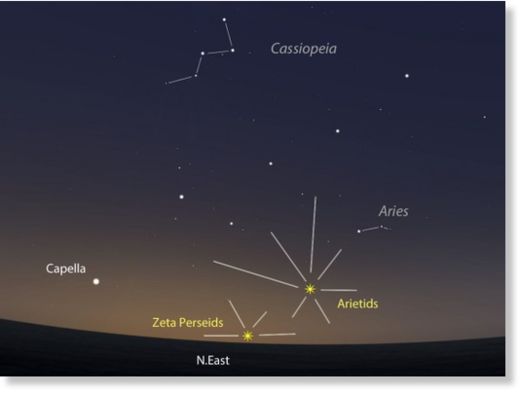 If you're wondering how anyone could discover a meteor shower when the sun is out, it's impossible unless your eyes can see radio waves. The Arietids were first "seen" in 1947 by operators of radio equipment at
Jodrell Bank Observatory
in England. Meteors leave trails of ionized gases when they rip through our upper atmosphere at tens of thousands of miles per hour and briefly make ideal reflectors of radio waves.