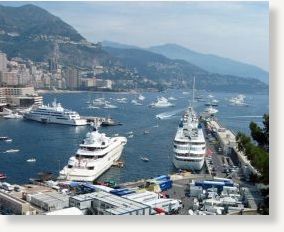 Just days after a minor earthquake was recorded off the coast of Menton, three further tremors have been registered in Monaco.
The Geo-Azur Laboratory confirmed that the first of these latest rumbles was registered at around 10.32am on the 8th February and hit 2.3 on the richter scale. The second, felt at about 2.02pm, had increased to 2.4 in its maginitude and finally came the third and strongest quake, which reached 2.8 ML.
Although the fire department in Menton did not receive any emergency calls at the time of the first minor tremor, several residents in Monaco, from Fontviellle and Monte-Carlo in particular, phoned police two days ago to find out what was happening.
Jena Luc Berenguer, Professor of the European Center of Valbonne, told press that the seismologists who recorded the movement under the Mediterranean Sea are not sure if all four were caused by the same fracture in the sea bed or if there is any link between the Menton and Monaco tremors at all. He added that although it is impossible to make any predictions, there was no great cause for concern at present. In fact if the technology was not in place to register signs of these 'mini-quakes', most of the region's residents would not be aware that they were even happening.