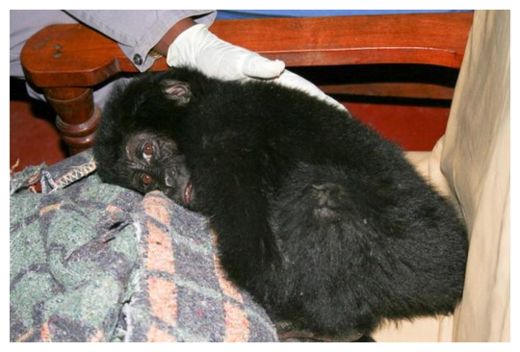 A young mountain gorilla was rescued from poachers attempting to smuggle the gorilla into Rwanda from the Democratic Republic of Congo on Sunday night. An investigation is currently underway to identify how and why the gorilla ended up in the hands of poachers.
The female mountain gorilla, estimated to be less than one year old, was found alive and is now in the care of veterinarians and caregivers at a facility in Kinigi, Rwanda, near Volcanoes National Park.
"When we walked into the jail, one of the poachers almost immediately sneezed right on the baby, who was asleep in a tight, tense ball on the bed," Dr. Jan Ramer of the Mountain Gorilla Veterinary Project said.
"She will go through a 30 day quarantine period, and hopefully will return to DR Congo at Virunga National Park's Senkwekwe Center where she can join orphan gorillas Maisha, Kaboko, Ndeze and Ndakasi. We are cautiously optimistic for this little one - she is tense, but accepting of people, and is eating. All good signs for her eventual recovery."