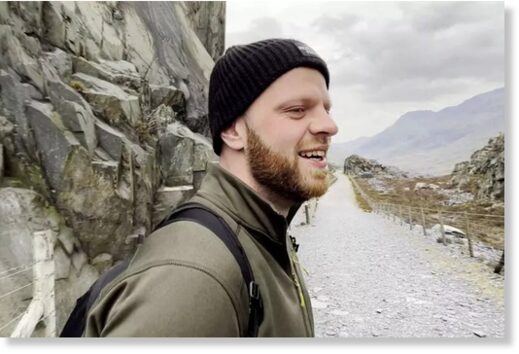 29-year-old, Aidan Roche, an offshore chemical engineer from Middlesbrough in the U.K., sent his last messages to family and friends on June 22, 2023, from the Eiger trail, near the Eiger in the Bernese Oberland of Switzerland. After this, nothing further has been heard from him. He was on the twelfth day of a two-week trip. His campervan that he was using to travel across Europe in was found nearby,
and unusually unlocked,
with no trace of Aidan. He had vanished and several months later, nothing has turned up.
The Eiger trail he was hiking is considered to be "a moderately challenging route". According to AllTrails, " This is a very popular area for hiking, so you'll likely encounter other people while exploring. The best times to visit this trail are June through September." Not a trail known for missing persons despite its popularity.

More about Aidan Roche
Aidan grew up in Longlands, a central Middlesbrough neighborhood in the U.K., and was living in Leeds at the time he went missing. He had planned to move back to Middlesbrough after his trip.
Aidan was a 6ft 2in, 13 stone,
experienced hiker and camper
with a distinct tattoo on his arm reading, "MAYASWELLMAYSENYA".
He had been a keen hiker from the age of three together with the rest of his family and had summited peaks like Ben Nevis and Snowden countless times.
His family said, "He always takes a survival blanket type thing and a whistle, as well as his Garmin [fitness tracker] watch. This is what he does when he is not working, he is really prepared."
The search for Aidan
When Aidan was declared missing in late June, the Swiss authorities launched a search operation
involving police, mountain rescue units, dogs, and drones, lasting five days.
His brothers Connor Roche, 32, and Niall Roche, 31, retraced Aidan's steps on the Eiger trail after raising more than £30,000 for an official search including the use of a helicopter but did not manage to find any evidence.
In total, they spent around 15 days scouring the Eiger trail and surrounding areas.
On July 7, his family took out screen advertisements at twenty-four locations across the region in Switzerland, including petrol stations, shops, and shopping centers.
In early August 2023, his family released the last videos Aidan is believed to have taken before he vanished. A video taken at 11:36 am places Roche a short distance away from the village of Grindelwald, which sits at the foot of the Eiger mountain. Friends say this is the last footage he sent to them. In the footage, Aidan pans around the Swiss Alps and captures an unknown woman in a baseball cap sitting on a bench and several hikers coming in his direction.
The family also released Aidan's last text messages before he went missing, sent to an unnamed friend, where he wrote:
"Hello, hello. I should be in Grindelwald in about two hours,"
followed by a picture of the view from the trail, and his final message:
"I'm still pretty high. I'll see you back at camp."
On 21 July, the family had already flown back to Switzerland to continue the search focusing first on the location the pictures and videos were taken and where the messages were last sent from. They have been forced to continue the search alone after the Swiss police and mountain rescue teams ended their efforts after "exhausting" every option.
Connor Roche said the family were "all missing Aidan so much" and that the hardest thing was dealing with "the unknown". "I try and keep up hope that maybe he's decided to wander off, or he's hit his head and forgotten who he is, but I have to drag myself back to what we actually know and the evidence suggests that he's still on the mountain and we haven't found him yet. There's the outside chance that he has some crazy survival story. You can't help but imagine the worst of things sometimes, especially with it being this long since he went missing. But then you feel guilty for imagining those things. Right now we just need more information, anything that can help us find him and bring him home."
Niall explained how the search effort went,
"There's none of his bag or anything that he had with him. It doesn't make sense how we haven't found anything.
From the timestamp of the picture he sent, it's about 90 minutes of hiking and it's not particularly difficult.",
"All of that trail and beneath the trail and beneath all the rock faces beneath the trail... We've searched thoroughly. There is not a trace."
Close friend teacher Beth Taylor, 26, said, "This is awful - we all just need to know what has happened to him. He'd never just disappear like this. There isn't a day that goes by normally without him making contact with friends and family, sharing pictures or videos. We're part of a massive group of really close friends - he wouldn't just randomly go missing."
The Eiger and Eiger Trail
The Eiger is one of three main peaks in the Bernese Oberland of Switzerland Eiger, Mönch, and Jungfrau are the three mountains that dominate the landscape near the village of Grindelwald. Jungfrau, at 4,158 meters, is the tallest of the three, but the Eiger, at 3,967 meters, is a popular rock climbing destination.
Renowned for bad weather and difficult rock conditions, the face is nick-named "Mordwand", a play on the German name of Nordwand (North face) which means "death wall".
Although the north face now has several routes, by far the most famous and popular is the original route, known as the 1938 route. The route, and the first ascent of the north face, was completed on July 24, 1938, by four climbers; Heinrich Harrer, Anderl Heckmair, Ludwig Vörg and Fritz Kasparek. At least sixty-four climbers have been killed on the Eiger since 1935.
Early attempts and ascents were made in summer, but due to global warming the entire face has become increasingly unstable, and the icefields have receded dramatically meaning the route has now become a target only in late autumn, winter, and early spring. Made up of poor-quality limestone, climbers rely on winter ice and snow to bond the rock together, meaning summer ascents these days are very rare.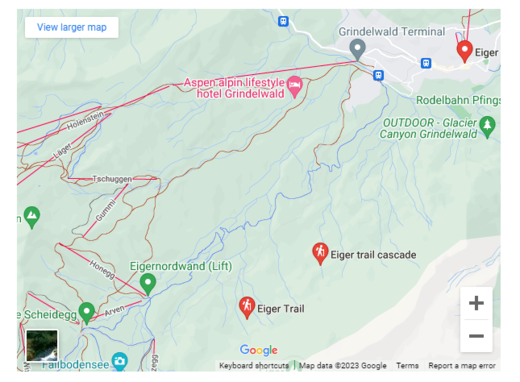 The trail that Aidan was last seen on is called the Eiger Trail and starts at Eigergletscher (Eiger Glacier Station) and ends in Alpiglen (using the downward direction). To do this hike, you take a train to Eigergletscher station, then, at the end of the hike, take a second train from Alpiglen to the starting point. The hike gives very scenic views of the Eiger and the surrounding area.
Key questions on the case
Why was the camper van left unlocked? This was unusual.
How could Aidan have vanished on a popular trail route with many other hikers in good weather conditions? Temperatures ranged between 60 and 77 degrees Fahrenheit on June 22, 2023, with clear sunny skies.
Is the woman sitting on the bench on the final video relevant to the story?
Other strange stories from Switzerland
The strange disappearance and death of Myles Robinson in Switzerland's Wengen Ski resort
Sources
https://www.standard.co.uk/news/uk/aidan-roche-missing-swiss-alps-man-hike-b1098626.html
https://www.earthtrekkers.com/eiger-trail-hike-bernese-oberland-switzerland/
https://www.ukclimbing.com/articles/features/north_face_of_the_eiger_-_1938_route-3652
https://www.dailymail.co.uk/news/article-12364091/Missing-Aidan-Roche-British-hiker-29-vanishes-Swiss-Alps-desperate-family-friends-share-footage-took-woman-background-disappeared-three-weeks-ago.html
https://www.independent.co.uk/news/uk/home-news/aidan-roche-missing-swiss-alps-b2388108.html
https://www.examinerlive.co.uk/news/local-news/eerie-last-messages-yorkshire-hiker-27462249