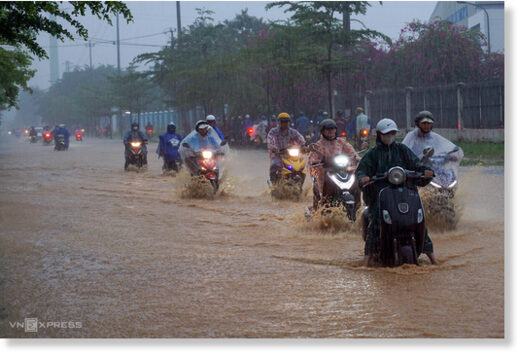 A tropical depression off the coast of Da Nang has started causing heavy rains for central Vietnam regions, which are expected to last until Wednesday.
Impacts from the depression have led to downpours with rainfall measuring 197 mm in Da Nang, 171 mm in Hoi An of Quang Nam, and 283 mm in Thua Thien Hue's Huong Phu District from midnight to 1 p.m. on Monday, according to the National Center for Hydro-Meteorological Forecasting.
The north-central and mid-central regions received an average rainfall of 50-80 mm during the period.
Many streets in Da Nang, Thua Thien Hue and Quang Nam were flooded by 0-.3 - 0.7 meters as a result, paralyzing traffic.
By 1 p.m. Monday, the tropical depression was around 150 km from Da Nang.
Its maximum wind speed was 39-61 kph, and it will soon move west at 10-15 kph. By 7 p.m., it will be located above sea regions from Da Nang to Quang Ngai.
At around 4 a.m. Tuesday, the tropical depression will tilt north, impacting Thua Thien-Hue before weakening in the southern area of Laos on Wednesday.
Due to the impact of the tropical depression, starting Monday afternoon, there will be rough seas in sea regions from Quang Tri to Quang Ngai. From Monday night to Tuesday morning, the coasts from Quang Tri to Quang Nam, as well as the northern parts of Quang Ngai, will also see strong winds.
There will be heavy rains for central Vietnam regions until Wednesday, with rain levels between 100-350 mm throughout, according to the national forecasting center.
The Central Highlands and southern Vietnam regions meanwhile will see rain levels between 100-200 mm.
The National Steering Committee for Natural Disaster Prevention on Sunday requested localities from Quang Binh to Phu Yen to monitor the tropical depression, manage the vessels at sea and inform people to steer their vessels away from dangerous areas.
Da Nang authorities have asked boats to come back to shore from Sunday night while Quang Nam, home to Cham Islet and several famous Hoi An beaches, banned beach activities from 7 a.m. Monday.