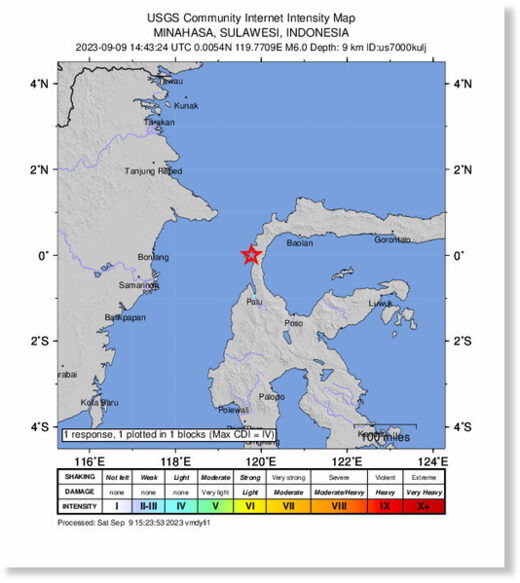 A shallow 6.0-magnitude earthquake hit near the Indonesian island of Sulawesi on Saturday, the United States Geological Survey said.
The tremor hit at 9:43 pm local time (1443 GMT) at a depth of 9.9 kilometres, according to the USGS.
Indonesia's geophysics agency (BMKG) reported no immediate tsunami but warned of possible aftershocks. It initially reported a magnitude of 6.3.
"I was having a good sleep (when the earthquake jolted). I jumped out of bed immediately," said Qamariah, a 41-year-old housewife in Central Sulawesi's Malei village.
"It felt like being shaken as if rice was being sifted. It went up and then down. It was really strong because I lived close to the epicentre. It lasted for about 5 seconds," she told AFP.
She said the power was out in her area so she could see if there was damage.
"I am outside (my house) right now, with family and my neighbours," she added.
Video obtained by AFP showed panicking people in Central Sulawesi's Lambonga village gathered in groups outside of their homes as they sought safety in fear of aftershocks.
In November, a 5.6-magnitude quake hit the Southeast Asian archipelago nation's Java island, killing 602 people.
Most of the victims of that earthquake were killed when buildings collapsed or in landslides triggered by the tremor.
A 6.1-magnitude earthquake struck off the country's Sumatra island in April, shaking homes of panicked residents but causing no casualties or damage. -- AFP