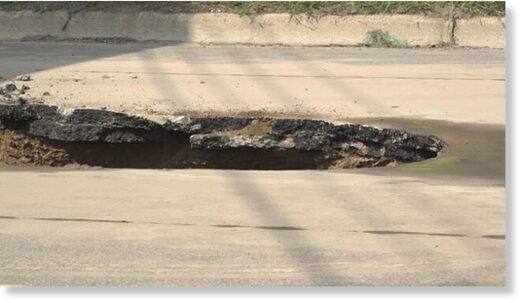 A large sinkhole has forced an emergency road closure in the City of Wixom.
A sinkhole was discovered on North Wixom Road, which is currently closed between Pontiac Trail to the south, and Maple Road to the north. The closure is just south of the Wixom Elementary School, near the Michigan Air Line Trail.
A void formed under a section of the road, and the Road Commission for Oakland County is working with the City to identify the cause.
Traffic will need to use alternate routes to get around the closure. School access will be maintained north of the closure. However, the unexpected closure is impacting bus routes at several schools in the area.
Alternate routes advised by the City include:
Southbound traffic on North Wixom Road should turn left (east) on Maple Road to Beck Road, then right (south).
Northbound traffic on North Wixom Road should turn right (east) on Pontiac Trail to Beck Road, then left (north).
No time frame has been established for the repairs, which are underway.