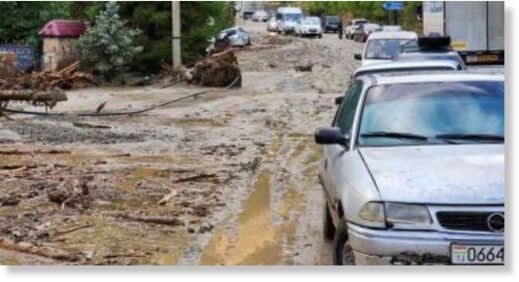 Heavy rainfall on 27 August 2023 caused severe flooding and landslides across wide areas of Tajikistan, the country's emergency authorities reported.
The Emergency Situations Committee in Tajikistan said flooding, landslides and mudslides occurred in the districts of Dushanbe, Vahdat, Hisor, Rudaki, Varzob, Devashtich, Rasht, Sangvor and Tajikabad. Numerous roads have been blocked and residential buildings damaged across affected areas.
Eleven people lost their lives in Vahdat, where around 15 vehicles were buried under a mudslide and flood debris.
Two people survived and were rescued. Flooding has affected several rural communities in the district and at least 100 farmsteads have been evacuated, the Emergency Situations Committee said. Roads and 5 bridges were also damaged, hindering access to affected communities.
Two people also lost their lives in a similar situation in the village of Rohati in the Rudaki District, where mudslides and floods dragged or buried multiple vehicles.
Some roads and buildings were damaged on the outskirts of the city of Dushanbe, capital of Tajikistan. Authorities reported traffic disruption but no injuries or fatalities. To the east of the capital, a bridge and a stretch of the Dushanbe-Vahdat-Lakhsh-Saritosh highway were severely damaged in Tojikobod district.
The President of the Republic of Tajikistan Emomali Rahmon expressed his condolences to the families and survivors of the deceased. The head of the state also instructed the Prime Minister, the Committee for Emergency Situations and other relevant authorities to provide assistance to the families of those affected and to take immediate measures to eliminate the consequences of the natural disaster.