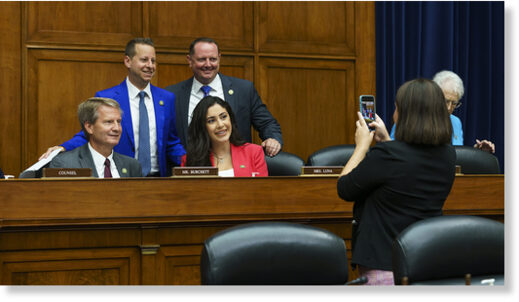 Lawmakers on both sides of the aisle are looking to expand their investigative power following their
July hearing
on unidentified aerial phenomena (UAP), or UFOs, which they say left more questions than answers.
Reps.
Jared Moskowitz
(D-Fla.),
Tim Burchett
(R-Tenn.) and Anna Paulina Luna (R-Fla.) joined The Hill's event last week, "
The Truth Is Out There: UFOs & National Security
."
They emphasized the hearing only scratched the surface of existing intelligence on UFOs, partly because former intelligence official David Grusch, their star whistleblower, said he was unable to present classified evidence to substantiate his claims.
The trio of lawmakers are among those now leading a push for Speaker
Kevin McCarthy
(R-Calif.) and House Oversight Chairman
James Comer
(R-Ky.) to appoint a select committee on UAPs, though they have not yet heard back on the request.
Burchett said such a panel would allow lawmakers to subpoena people to speak on UAPs in an open setting.
"When you subpoena these folks, they'll have their lawyers there, but they will not be prosecuted under law,"
Burchett told The Hill's congressional reporter Mychael Schnell, who moderated the virtual event.
Burchett said the expanded powers would help overcome roadblocks they've run into when trying to secure a sensitive compartmented information facility (SCIF), in which they could hear the rest of Grusch's testimony.
Luna said Congress is "actively being stonewalled" in its efforts to ensure Grusch has the security clearance he needs to brief them.
"It just creates more and more conspiracy theories because our federal government is so arrogant and so bloated," Burchett said of the roadblocks. "They'll just run out the clock."
The Pentagon's All-domain Anomaly Resolution Office, which Congress established to investigate the incidents, has investigated roughly 800 reports of UAPs as of May. While military officials have said most cases have innocuous origins, many others remain unexplained.
Lawmakers have proposed creating a centralized database of UAP incidents that would pull information across agencies. And they want more of that information made available to the public.
Moskowitz and Luna proposed using Congress's power of the purse by deploying the Holman rule to that end, which allows Congress to amend appropriations legislation and reduce the salary of or terminate specific federal employees.
"Let's say we go to Eglin Air Force Base and they don't bring the information forward that they showed us. We know it's not classified and that we can bring it forward," Luna said. "That's an instance where we would actually bring forward that legislation for the appropriations to defund those positions."
The lawmakers, however, recognized that in declassifying UAP-related information, they must walk the line between transparency and national security.
While the nation's military capabilities should be kept confidential to maintain superiority, Moskowitz said, the American people should not be kept in the dark about the possibility of extraterrestrial life UFOs.
"If we're reverse-engineering technology based on stuff that has crashed landed here from other civilizations, we can't just tell the American people that's not true forever," Moskowitz said. "The American people deserve to know."