Horrific for cell phones, worse for electric vehicles, calamitous under Net Zero.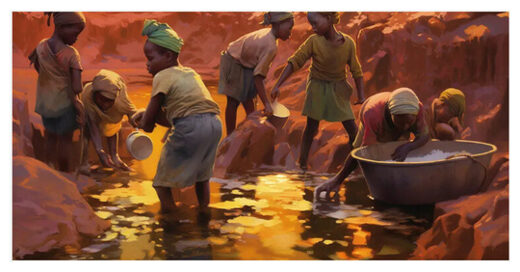 Global cobalt demand soared with the advent of cell phones and laptop computers. It exploded with the arrival of electric vehicles
and now is skyrocketing in tandem with government EV mandates and subsidies.
Cobalt
improves battery performance
, extends driving range and reduces fire risks.
Demand will reach stratospheric heights if governments remain obsessed with climate change and Net Zero. States and nations would have to switch to electric cars, trucks, buses and tractors; end coal and gas electricity generation; convert gas furnaces, water heaters and stoves to electricity; and provide alternative power for windless, sunless periods. Electricity generation would triple or quadruple.
Weather-dependent wind turbines and solar panels would require billions of battery modules, to stabilize power grids and avoid blackouts every time wind and sunshine don't cooperate.
All that Net Zero transformation equipment - plus transmission lines, substations and transformers - will require billions of tons of cobalt, lithium, copper, nickel, graphite, iron, aluminum, rare earths and other raw materials at scales unprecedented in human history. That will necessitate mining, ore processing, manufacturing, land disruption and pollution at equally unprecedented levels.
Just President Biden's first tranche of US offshore wind turbines (30,000 megawatts by 2030) will require some 110,000 tons of copper, for the turbines alone. Transmission lines, transformers and batteries are extra. Based on average global ore concentrations, getting that copper would require extracting 40,000,000 tons of surface rock (overburden) and 25,000,000 tons of copper ore.
But those 2,500 12-megawatt 800-foot-tall turbines would provide barely enough electricity to power New York state on a hot summer day, if the wind is blowing, and before its Net Zero mandates kick in.
However, the Biden Administration opposes mining in the United States - even for essential Net Zero materials;
even under stringent US pollution, workplace safety and mined-land reclamation regulations. The President's horse-blindered
Secretary of the Interior
has vetoed mining for materials in
Alaska
,
Minnesota
and almost anywhere
critical metals and minerals
might be found.
The Administration is laser-focused on ending the "climate crisis" by switching to "clean" energy. It has few qualms about importing the critically needed materials from foreign countries, primarily China - regardless of economic, defense, national security, ecological or human rights implications. It just wants the dirty aspects of "clean" energy far away and out of sight.
Cobalt mining involves unimaginable horrors.
Cobalt Red
, by Nottingham University associate professor of modern slavery
Siddharth Kara
, exposes the excruciating realities that Stop Oil and Net Zero campaigners strive to keep buried - along with the bodies of parents and children killed in cave-ins or dying slowly and painfully after being maimed or poisoned in cobalt mines.
Professor Kara took multiple trips to the Democratic Republic of Congo, risking his health and life to document conditions for desperate Africans in a region that holds 72% of the world's known supplies of cobalt.
He estimates that 70% of this cobalt (
half the world's entire supply
) involves some measure of child labor, while much of the rest involves near-slave labor.
The DRC's once-verdant southeastern corner hosts the largest, most accessible, highest grade cobalt ore deposits known on Earth. For EV buyers, Net Zero aficionados, and corporate and government elites, the land is
blessed
with cobalt interspersed with copper, other Net Zero metals, uranium, chromium, gold and silver. For those toiling at the bottom of the Congo food chain, the land is
cursed
with those metals.
In DRC mines,
"labor is valued by the penny, life hardly at all,"
Kara says. Miners in its big industrial mines get somewhat decent working conditions, medical care and pay (perhaps $10 per day).
But almost one-third of Congo cobalt is gouged from the earth by artisanal miners: men and women, and boys and girls as young as six. They and their families live and work in a treeless "hellscape of craters and tunnels patrolled by maniacs with guns."
Noxious clouds of gas permeate air that even infants must breathe. Families fish, play and bathe in - and drink from - rivers and lakes contaminated with metals and industrial chemicals.
They labor ten to twelve hours a day in sweltering heat and toxic mud, water and dust, in enormous pits hundreds of feet deep - hacking at rocky walls and in long, narrow tunnels that collapse with frightening frequency. Injured miners may get initial medical care; then nothing.
In some areas, their clothing and skin are covered with mustard-colored dust - dried sulfuric acid from processing the ores. Almost everywhere, breast, kidney and lung cancers are rising, because adults, children and babies are exposed constantly to heavy metals and uranium in everything around them. High lead levels cause permanent neurological damage.
15-year-old Muteba hobbled on crutches, his shattered, mangled legs dangling below his skinny waist. He was the only survivor from a cave-in that buried his brother and six others alive. 16-year-old Makano fell into a pit, broke and gashed his leg and hip, and was left with a festering, infected wound that desperately required antibiotics and medical attention he was unlikely to receive.
There are thousands more like them - maimed, paralyzed, disfigured or dead.
"Fair living" wages?
Male artisanal miners receive around $2-4 a day - for output that might reach two 90-pound (40-kilogram) sacks of heterogenite cobalt ore. Women and children are typically paid half that, regardless of how much they produce or the purity of the ore they mine.
Those who disobey mine overseers can get "locked in a shipping container with no food or water for up to two days." At Kanina, two boys who tried to get more than the usual pittance for their 65-pound bags of ore were gunned down - murdered - by security guards.
"Here it is better not to be born," a mother lamented. A miner reflected, "Here we work in our graves." Of course we fear the dangers, said another, "but if we do not work, we do not eat."
And still mining, tech and EV companies,
ESG investment firms
, politicians and climate zealots tell us they require and ensure "responsible sourcing" of Net Zero supply chains, good wages, safe working environments, and prevention of child labor and slavery. What indifferent, self-serving fraud.
No DRC buyer knows or cares where a quantity of cobalt ore came from, under what conditions it was mined, or whether children dug it out. The entire marketplace is designed to collect and mix ores from formal industrial mines and legal or illegal artisanal operations - making it impossible to trace sources or tell whether child slaves or brutal militias were involved.
At least one marketplace is a remote night operation that can have no other purpose "than to launder artisanally mined cobalt into the formal supply chain completely our of view." Every mixed load of ore is then thrown into acid baths for initial processing - before being sent out of country, mostly to China.
We hear much about reparations for descendants of American slaves - but little about reparations for Native Americans, and zilch about compensating these modern-day slaves.
Nor do we hear
from billionaires
like
Bill Gates, John Kerry,
Mark Zuckerberg, George Soros and Michael Bloomberg. They lavishly fund "climate crisis" and "clean energy" campaigns.
Have they spent one dime bringing decent wages, working conditions, living standards and medical care to Congo's miners?
These human rights issues should top their charitable giving - and the agenda for anyone promoting the climate crisis, ESG, Net Zero and batteries, especially President Biden, Senator Sheldon Whitehouse and UN Secretary General Antonio Guterres.
Paul Driessen is senior policy advisor for the Committee For A Constructive Tomorrow (
www.CFACT.org
) and author of books and articles on energy, climate change, environmental policy and human rights.