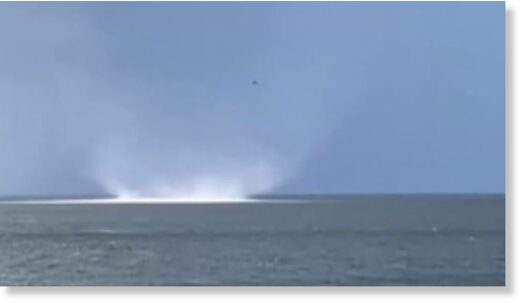 Paul Michael and his wife Jane were enjoying a Saturday evening on their friend's cottage deck at Youghall Beach, in Bathurst, N.B., watching as a thunderstorm rolled in over the water.
"It was a pretty powerful looking thunderstorm heading our way — big dark clouds, lightning," he said. But he soon noticed something different on the water.
"Suddenly, I saw this commotion out in the water."
Michael said the commotion was approximately a quarter of a mile offshore and described it as water that "consolidated into two or three funnels swirling in a circle."
He said the weather event swirled and moved "fairly quickly" across Chaleur Bay and lasted "about 60 seconds or so."
Michael, who recorded the event on his phone, said it was like watching "water that sort of moved up into the air, like funnels."
"We were all amazed. It was just mesmerizing really, to watch it."
CBC meteorologist Ryan Snoddon said what Michael captured on his phone is a "rare" event but it will take experts some time to determine what it was.
Snoddon said satellite radar images confirmed a large thunderstorm moved through the Bathurst region at the time.
"So, that leaves us with two options," he said.
Snoddon said it was either a tornadic waterspout or a gustnado.
Tornadic waterspout or gustnado?
A tornadic waterspout is "essentially a tornado that forms over the water or moves from land to the water," he said.
Tornadic waterspouts have the "same characteristics as a land tornado" and are associated with severe thunderstorms.
"A waterspout is a spinning column of air that extends down from the clouds and touches the water surface, forming that waterspout", he said.
A gustnado is a combination of a "gust front and a tornado but it is not a tornado," he said.
Snoddon said, unlike a tornado, a gustnado is not actually connected to the base of the cloud.
"It's essentially a column of rotating air; a mesocyclonic rotation that's kind of spinning ahead of the actual thunderstorm."
N.B. averages 1 or 2 tornadoes a year
Snoddon contacted the Northern Tornadoes Project (NTP) at Western University in London, Ontario to determine what happened on Chaleur Bay.
According to the NTP's website, the centre aims to "better detect tornado occurrence throughout Canada" and improve severe weather predicting and mitigating damage from extreme weather events.
Snoddon said the experts at the centre have access to higher-resolution radar imagery and velocity imagery from the thunderstorm near Bathurst.
NTP experts are investigating what happened on Chaleur Bay Saturday night and will record it in their database.
Whether it was a tornadic waterspout or a gustnado, Snoddon said both are "quite rare."
He said if this was a tornadic waterspout, it could be categorized as a tornado. New Brunswick averages one or two tornadoes annually.
Denis Foulem said it was "very fortunate" this meteorological event was captured on video when it happened.
Foulem, who worked as a meteorological technician for Environment Canada, said it might be "years" before residents see another event like this.
The retired Nigadoo, N.B. resident said he's "lucky" to have seen four similar events on the Chaleur Bay over the past six decades.
Such events "don't last very long," he said. "Less than a minute, usually."
Paul Michael said Saturday's event was the first he had seen.
Once it dissipated, Michael said the water on Chaleur Bay "seemed normal" with a few ripples but "no great waves or anything."
"This seemed to just appear out of nowhere and disappeared," he said. "It just started and stopped."