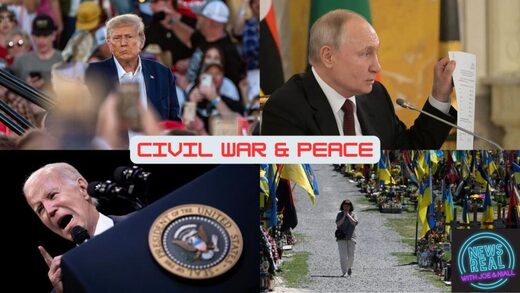 They're really going for it. The regime wants to knock the electorate's favorite to become the next president of the US out of the race. Last week's indictment of Donald Trump in a Florida court for '37 charges of mishandling top secret government documents' are patently trumped-up charges intended to negatively impact his re-election bid - perhaps by rendering his candidacy 'invalid'.
Meanwhile, the Anglo-American 'Ukrainian counter-offensive' attempt to break through Russian military fortifications across southern Ukraine is not going well. In fact, it's being obliterated, along with thousands more hapless Ukrainian men.
The war could have been avoided: Putin revealed to an African peace delegation this week the text of a peace treaty signed by both Russia and Ukraine in April 2022, which Ukraine reneged on after British PM Boris Johnson 'suddenly appeared' in Kiev and effectively ordered Zelensky NOT to accept Moscow's terms.
Running Time:
01:42:31
Download:
MP3
— 70.4 MB
This podcast is also available to view, share and download on
Rumble
,
Odysee
and
VK
.
Show Notes