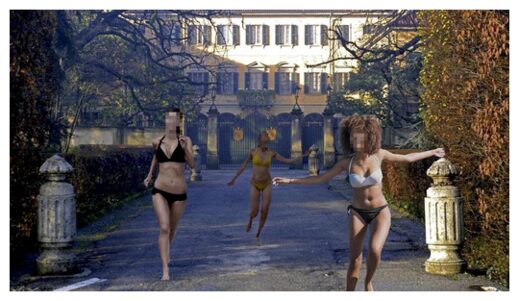 JUST moments after the death of former Italian Prime Minister Silvio Berlusconi Italian rescue services have reported a mass exodus of what appear to be young scantily clad women fleeing his estately home in Arcore near Milan, WWN has learned.
"Some of these women are in their late teens which suggests they may have been held captive for years," a police spokesman told WWN, "many of the women had very little clothes on and were screaming 'we're finally free' as they sprinted out of Berlusconi's San Martino villa this morning".
The 86-year-old died last night at the San Raffaele hospital in Milan from complications arising from chronic leukaemia and leaves behind a litany of crimes in his wake, much like any respectable Italian politician and businessman of his era.
"As far as corrupt, perverted politicians go, Silvio was the most charismatic Italy has ever produced and will go down in history as one of the country's most favourite dirty old bastards who openly preyed on underage teenage girls," another spokesperson gave a touching obituary. "His fraud and siphoning of public money are going to be hard for anyone to ever beat, but knowing Italian politicians they will certainly give it a try".
In a bid to live out his karma, Silvio Berlusconi is expected to be reincarnated into a life of sexual slavery.