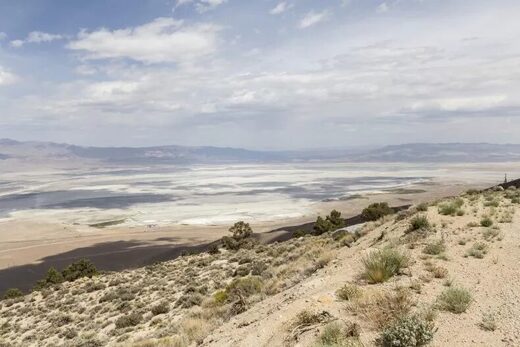 California's intense weather at the start of 2023 has led to a number of changes in the state's climate, notably filling up usually dry lakes with the plentiful rainwater that fell over recent months.
Owens Lake in Inyo County, 220 miles north of Los Angeles, is one such lake, with images taken by the Moderate Resolution Imaging Spectroradiometer (MODIS) on
NASA
's Terra satellite
showing the significant increase in water levels between March 2022 and March 2023
.
Owens Lake was naturally full of water until
the Los Angeles Aqueduct was constructed in 1913, which took so much water from the Owens River that the lake began to dry out. It remained mostly dry until this March, when the heavy rainfall in California caused the lake to fill back up. This also marks the first time that the Los Angeles Aqueduct was breached
by extreme weather, the
Los Angeles Times reported
.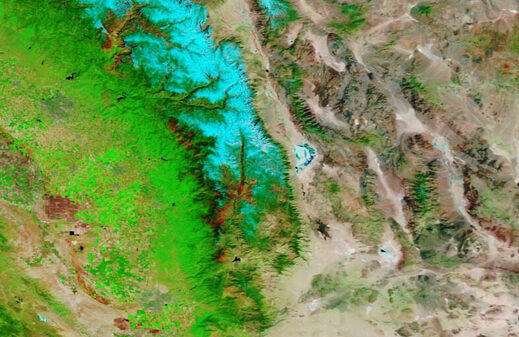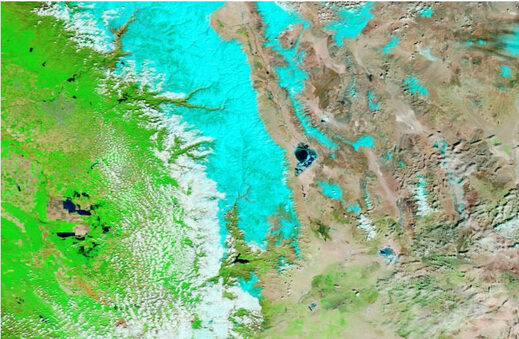 Comment: The following Tweet shows another before and after of the lake:



The atmospheric river
that hit California on March 9-10 resulted in between 5 and 13 inches of rain falling in central California
, which filled the Los Angeles Aqueduct to such a degree that it burst its limits at Pleasant Valley Dam, flowing into the Owens River at a rate of 1,000 cubic feet per second, according to the
Los Angeles Times.
The entire state has found itself being re-hydrated, with
large portions of California that were under intense drought conditions mere months ago
now being completely drought-free.
Data from the U.S. Drought Monitor
as of March 28 showed that 55.3 percent of the state is free of drought entirely, a large jump from the
44.7 percent recorded on March 14, and the 26.8 percent on March 7.
Additionally,
only 1.95 percent of the state is under "severe drought," having dropped from 19 percent on March 7
and 8.49 percent on March 14.
Only six months ago, on September 27, 2022, 53 percent of California was under "severe drought," 24.32 percent was under "extreme drought"
, and 16.57 percent was in the highest classification of "exceptional drought."
"When people ask if California is getting wetter or drier, the answer is both.
Rising temperatures in California dry out our landscapes, leading to longer droughts and more severe fire seasons," Tom Corringham, a research economist at Scripps Institution of Oceanography at UC San Diego,
previously told
Newsweek.

Comment: That may be true, but there's more to the story, because more people are using more water and controlled burns that used to limit the fires spread has now been banned in many regions.


"Higher temperatures also allow the atmosphere to hold more water vapor, leading to more intense storms. This has been described as 'hydroclimate whiplash' or 'weather on steroids.'"
For Owens Lake in particular, this is an especially good thing, as
the dry bed of the lake is considered to be the largest single source of dust pollution in the entire U.S
. The exposed lake bed, which has been dry since around 1930, releases dust into the wind that
contains carcinogens, such as cadmium, nickel and arsenic
.

Comment: Which is now in the water?


According to a 2007 risk assessment report of the lake's dust, the lake emits 80,000 tons each year, and has 130 times the standard 24-hour concentrations of dust in the air, threatening the 40,000 residents within range of the dust.
"The emitted airborne particulate is small enough to travel great distances and can cause significant ecological and human health effects, including serious respiratory ailments," the report stated.
The Los Angeles Department of Water and Power (LADWP) was required in the early 2000s to re-establish a small flow from the river into the lake to minimize the dryness of the lakebed, and as of 2022, the dust problem was 99.4 percent contained, according to the LADWP. Regardless, this recent influx of water will further help to reduce the lake's dust problem.
Owens Lake isn't the only dried-up water body being refilled
by recent weather:
Lopez Lake in San Luis Obispo County
and
Tulare Lake
in the southern San Joaquin Valley have both seen huge rises
in their water levels in recent months.
The recent
record-breaking snowpack
in the Sierra Nevadas will bring even more water to California's lowlands
as temperatures continue to rise in the spring and summer, which will refill dried lakes and reservoirs, but
may lead to more flooding
.
"Timing also matters: All the rain at once means that much of it will run off into the ocean instead of filling California's reservoirs,"
Jacob Petersen-Perlman, a water resources geography expert and assistant professor at East Carolina University,
previously told Newsweek.
However,
this year's rainfall alone will not be enough to entirely cure the state of its ongoing megadrought, which has plagued California since around 2000
.
"Over the last 25 years, we have lost more than 150 km
3
[121,600,000 acre feet] of groundwater from California, which would take many, many years of rain to replace, even if there were no consumptive use for municipal or agricultural purposes," Aakash Ahamed, a hydrologist and co-founder of the Water Data Lab, told
Newsweek
in October last year.
For the drought to be lifted entirely, this groundwater needs to be properly replenished.
"It will take several years of above normal precipitation — both rain and snow during the appropriate times of the year," Lara Fowler, an environmental and energy issues attorney and interim director of the Penn State Sustainability Institute at Penn State University,
previously told Newsweek.
"As soil moisture and surface water supplies have become depleted,
more and more groundwater pumping has also led to a decline in aquifer levels in many places. Such groundwater contributes to baseflows in streams
. So not only would surface water (streams/rivers) need to refill, so does soil moisture and groundwater levels (the last of which can be very slow to recharge)."