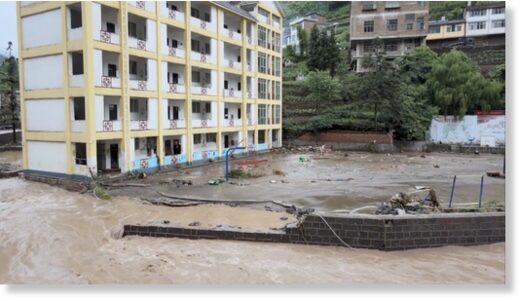 The southern part of China entered its main flood season on Thursday, with multiple regions encountering weather-related emergencies in recent days.
Heavy rain in southwest China's Yunnan Province Thursday morning caused flash flooding in a hillside county, claiming the lives of three, with one person still missing.
The flooding in the county also caused significant housing damage in low-lying areas and authorities immediately organized an evacuation.
At a local middle school where the track field was already swamped by floodwaters, rescuers evacuated some 600 students and faculty staff.
In Anhui Province's city of Ningguo, the fire department responded to a flood emergency in the rural areas, where a family was trapped inside their house.
At the scene, one firefighter swam across the flooded area with cables and equipment, and secured the cables between the flooded house and the extraction point. Then a group of rescuers canoed to the four trapped people and brought them to safety.
Henan Province's Sanmenxia City has recently experienced prolonged rainfall, causing the water level in a downstream river to see a sharp rise.
One man in Lushi County was trapped by the rising floodwaters when biking under a tall bridge. Firefighters arriving at the site called in a large crane to lift the man, as well as his bike, up onto the bridge.