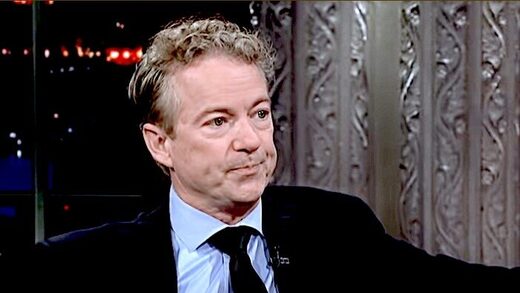 A year ago this month,
Sen. Rand Paul
held up
a $40 billion spending package to Ukraine saying that the money needed oversight. He got a vote on his measure. It failed.
"It's irresponsible to shovel $40 billion out the door without knowing where it goes," Paul said at the time.
Politico
reported
on Friday:
"The Pentagon revealed last week that it overestimated the value of arms sent to Kyiv from existing stocks, which potentially allows the department to add $3 billion worth to the $2.7 billion left in the weapons account. Department officials were valuing the items using their 'replacement cost' rather than their 'net book value,' which was lower, Defense Department officials say."
Paul "says he will reintroduce his legislation calling for a dedicated Ukraine aid inspector general after the Pentagon disclosed that it miscalculated Ukraine aid by $3 billion,"
Politico reported.
BIG whoops.
This is not new territory for Paul and not just on the U.S.'s Ukraine spending.
A highly trafficked BASEDPolitics tweet this week came from our own Hannah Cox who shared a recent story about
Paul being the only Republican to oppose the confirmation of current FBI Director Christopher Wray.
Wray and the FBI have become more unpopular with many conservatives and libertarians after it was
revealed
in the Durham Report that the agency had basically become a weaponized arm of the 2016 Hillary Clinton presidential campaign and had also worked to undermine Donald Trump's presidency.
Prior to that, Paul became the
first U.S. senator in history
to vote against confirming an FBI director when James Comey was up for the job in 2013.
Hannah understandably wanted to know: Does he ever get tired of having to say 'I told you so' so often?
No one is perfect, but Paul does seem to get to do this too often. These are just two examples.
There
are
more
.
Politico noted of
Paul's new proposal:
"Paul's legislation would fold Ukraine oversight into the duties of the special inspector general for Afghanistan reconstruction. The office, now held by John Sopko, would be empowered to conduct audits, investigations and oversight for programs run by the Pentagon, State Department and USAID. It would also submit quarterly reports to Congress."
Paul said in a statement:
"Predictably, we now find ourselves in a situation where the Pentagon's miscalculation of aid calls into question the reliability of its accounting."
He tried to tell 'em.
About the Author:
Jack Hunter is a freelance writer, the co-author of Sen. Rand Paul's 2011 book 'The Tea Party Goes to Washington' and the former politics editor for Rare.us.