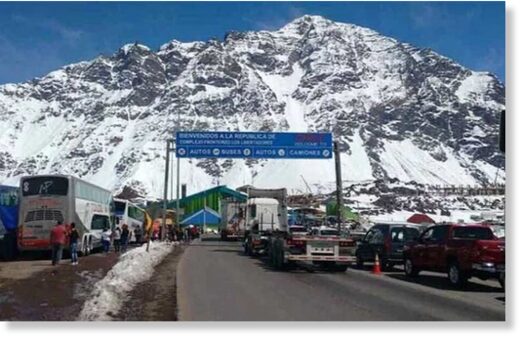 Thousands of Chilean travelers were stranded Sunday in the Argentine province of Mendoza as the Cristo Redentor Path was closed at 3 pm due to bad weather (snow), it was reported. The decision was made jointly by both countries, reported Los Andes. Shortly before, traffic from Uspallata onwards had also been cut off. It is an average one-hour drive from there to Cristo Redentor
According to
Mendoza's Uno
newspaper, long lines of cars were observed since midday in the area near the Los Libertadores customs complex, at the border. The border crossing was closed due to bad weather conditions in the area. The border village of Las Cuevas had a thin layer of snow under overcast skies before the closure, the newspaper reported. Meanwhile, in the Uspallata Valley area, there were strong winds and snowfall in the high mountains. The storm could last until Thursday.
Border closures due to snowfalls also affect Paso Pehuenche in Malargüe. The only nearby path open to traffic is Agua Negra, in San Juan, on National Route 150 (Argentina) and Route CH-41 (Chile), Uno explained.
Every weekend, travelers from neighboring countries pour into Argentina to do their shopping and capitalize on a favorable exchange rate, seriously affecting local economies. MercoPress has already reported on Uruguayans migrating to the Argentine side and even commuting to work, which alters the real estate market in the province of Entre Ríos.
In addition to that, customs offices collapse and the shelves of many supermarkets are temporarily out of stock on a daily basis, but the movement generated by international tourists is boosting the economy of the provinces bordering Chile, Uruguay, Brazil, Bolivia, and Paraguay.
The bad weather will mean extra income for Mendoza's hotels and restaurants, according to local media.
"For Chileans, for example, the prices of several products in Argentina represent a quarter of the values in force in their country," according to a study that compared the prices of different local products with those of neighboring countries.