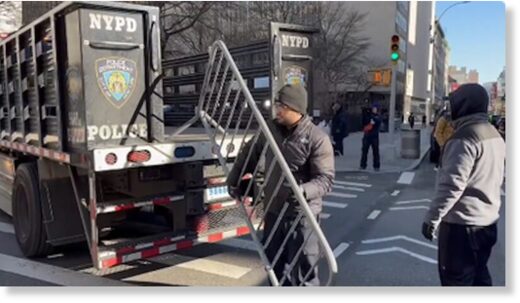 The New York Police Department (NYPD) has mobilized
700 riot cops
and deployed steel barricades around the Manhattan Criminal Court in anticipation of civil disorder, should the Manhattan District Attorney's office order the arrest of former President Donald Trump, following a potential grand jury indictment for allegedly paying a former porn star for her silence ahead of his 2016 presidential campaign.
As the
NY Times
gleefully reports, "
He would be fingerprinted. He would be photographed. He could even be handcuffed.
And if Donald J. Trump is indicted by a Manhattan grand jury in the days ahead for his role in a hush money payment to a porn star, the former president of the United States of America will be read the standard Miranda warning: He will be told that he has the right to remain silent and the right to an attorney."
"These are among the routine steps for felony arrests in New York. But the unprecedented arrest of a former commander in chief — one whose devoted supporters once staged a violent attack on the Capitol — will be anything but routine."
According to the report, cited by
Kyle Becker
in
Trending Politics
,
"more than a dozen senior Police Department officials and two of the mayor's top public safety aides held a virtual meeting to discuss security, staffing and contingency plans in the event of any protests, one person with knowledge of the meeting said."
The Times drew a parallel between New York City's security preparations for the potential Trump indictment this week and the Capitol riots on January 6, 2021.

"That meeting followed a call from Mr. Trump himself, in a post on his site Truth Social on Saturday morning: 'PROTEST,' he exhorted his supporters. 'TAKE OUR NATION BACK!'

"The former president's rallying cry, with an indictment looming,

conjured up memories of the Jan. 6, 2020, assault on the Capitol,

" the Times added. -Trending Politics
As we noted on Monday,
House GOP investigators are demanding that the Manhattan DA explain their alleged (leaked) decision to prosecute Trump
.
"You are reportedly about to engage in an
unprecedented abuse of prosecutorial authority: the indictment of a former President of the United States and current declared candidate for that office,
" reads a Monday letter to Bragg from Reps. Jim Jordan (Judiciary Chairman), James Comer (Oversight Chairman) and Bryan Steil (House Admin Chairman).
"This indictment comes after years of your office searching for a basis - any basis - on which to bring charges, ultimately settling on a novel legal theory untested anywhere in the country and one that federal authorities declined to pursue."
The letter goes on to shred the 'untested legal theory' underpinning Bragg's expected indictment
, and calls out former Trump Attorney Michael Cohen, Bragg's star witness and a convicted perjurer, as having a "serious credibility problem."
The letter demands
all documents and communications related to the decision
.
"
This is the type of thing America hates, and it divides America and it is wrong,
" McCarthy said this week while conferring with House Republicans in Orlando, Florida. McCarthy has accused Bragg of lowering penalties for criminals in New York while prosecuting his political opponents.
"It's interesting to me he spent his whole time as a DA lowering felonies, not to prosecute," said McCarthy. "I think Republicans and Democrats alike hate this type of justice."