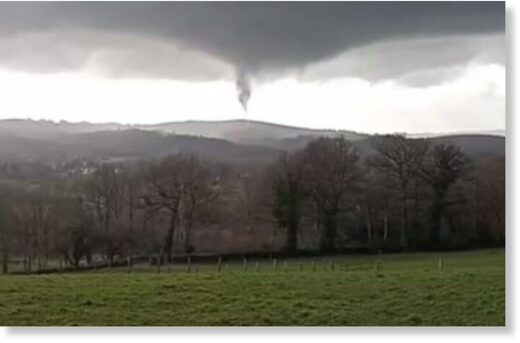 A tornado swept through a village in Creuse, central France, on Thursday (March 9), causing damage to infrastructure and buildings.
The violent weather left a number of houses in Pontarion with roofs and windows, while telephone lines were also damaged.
Despite the damage from the tornado, no one was injured in the village, confirmed its mayor on Friday (March 10).
The tornado was caused by the strong winds that led to weather warnings across France, with some regions seeing winds of up to 100km/h.
'Three-quarters of buildings destroyed'
The tornado struck the village around 5 pm on Thursday (March 9). It is reportedly the first one recorded in the department in more than 25 years.
According to the meteorological site Keraunos there was a 5-15% chance of a tornado forming in Creuse and the nearby departments yesterday.
Eyewitness reports of the event called the event "almost apocalyptic".
Around "three-quarters of roofs in the village are destroyed," in the village according to resident Guilhem Carbon, and the "main street is littered with debris."
"I have never experienced anything like it," he added.
The village's school was closed on Friday as a result of the tornado.
"There is damage to many buildings... but thankfully everybody remained safe during the storm... nobody was injured," said mayor Jean-Claude Moreau on France Bleu radio on Friday.
Now the village must deal with the fallout from the violent weather, he said, and start to repair the buildings.
Firefighters in the department received more than 150 calls during yesterday's weather, 58 of them coming from Pontarion and the surrounding area.